Steven
About: Lives for Pelaton, family man, aspiring golf pro
Goals: Weight loss, reduce blood pressure and cholesterol, increase activity level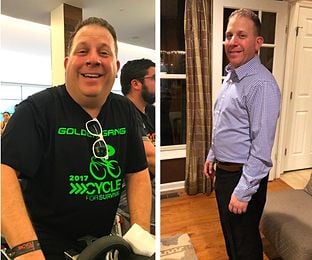 If you're serious about making a change, the team at OnPoint could not make it any easier!
What prompted you to make a change?
In February of 2017 at 47 years old I was visiting a client out of town. The walk from the hotel to the clients office was about ¾'s of a mile. After walking that distance while carrying a back-pack and wheeling a carry-on suitcase I was completely winded. I was scared. I already have high cholesterol, had borderline high blood pressure and heart disease runs in my family. I knew I needed to make a change. I had been through every diet program out there (Jenny Craig (3 times), weight watchers (4 times) and multiple protein shake type diets. In all cases, I would lose the weight and then put it back on again and actually then some. This time it had to be about not dieting but changing my approach to eating to help lose weight and maintain it. I felt the only way to do that was find a nutritionist to be my guide through that journey. I don't take decisions lightly and did a great deal of research before deciding on OnPoint Nutrition. I found a couple of practices close to home, but I knew that would never work for me with a crazy work schedule. As a result I started to look for a practice closer to the office. It was then that I found OnPoint Nutrition…."Based in Philadelphia, Coaching Coast to Coast"? I was intrigued. How could that be? I did my due diligence and each review of the practice I read was better than the next. With the offering of a free consult, there was nothing to lose. Britney made me feel extremely comfortable during that consultation. For every obstacle I presented, she immediately offered a solution. It was clear to me that On Point Nutrition would be able to be my guide is this journey, and as they say….the rest is history….and….43 pounds.
How has your life and health changed since working with OnPoint Nutrition?
It is indescribable how much better I feel since losing the weight. My level of physical activity has increased exponentially. We own a Peloton spin bike and I use it consistently every other day for 45 minutes. I just got a statistic that I have ridden over 1,400 miles! I recently ran a 5k for charity (with no training) in under 30 minutes. We recently took a Mediterranean cruise that started and ended in Rome. While there, my son and I climbed to the very peak of the Dome of St. Peters Cathedral (871 steps in total). The ability to make that climb with no issues or repercussions is when it really sank in for me. How good it felt to be able to do that. It really never gets old to hear the compliments on the weight loss and that I look 20 years younger.
What have you learned since working with the nutritionists at OnPoint Nutrition?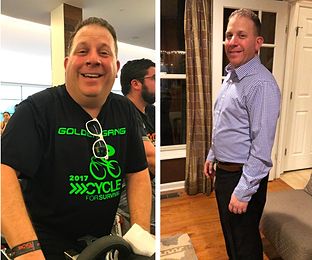 With all the ups and downs in my weight, and different fad diets that I did, I started to believe that I was genetically predisposed to being overweight and needed to accept that. I thought I could not live without my daily dose of a devil dog, black and white cookie or other "junk food". It amazed me that with a properly balanced diet, all of those "cravings" went away. I will still have the occasional bite or two of ice cream or cake, but they simply don't fill a void for me anymore.
What would you tell someone who is thinking about working with OnPoint Nutrition?
If you are serious about making a change to your eating habits the team at OnPoint Nutrition could not make it any easier. The Facetime phone calls, texting, food logs, and real time feedback make it achievable, with no excuse for failure. They are kind, compassionate, and really become your guide. I feel really lucky to have discovered them and share the name when anyone asks!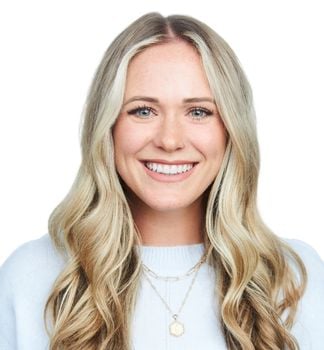 Ivy
Steven worked exclusively with our team member Ivy Eliff. When Ivy isn't working with clients, she's hitting the gym, flowing on her yoga mat, cooking up something delicious and nutritious in her kitchen and if it's the summer, spending any free second at the shore.
Schedule your free consultation today
Before starting your journey with our team, we would love to chat!