The Client Experience
Nutrition Counseling – What is it and how does it work
Your OnPoint Nutrition program has three main components: The Consultation, The Counseling and Long-Term Follow-Up.
Above all else, your nutritionist/dietitian is your coach. The coaching process begins during your initial consultation discussion, and is further informed by your discussions in your weekly calls.
Throughout the process, your nutritionist will provide you with educational materials, food/meal planning strategies, encouragement and support, and the accountability that will help you achieve your goals!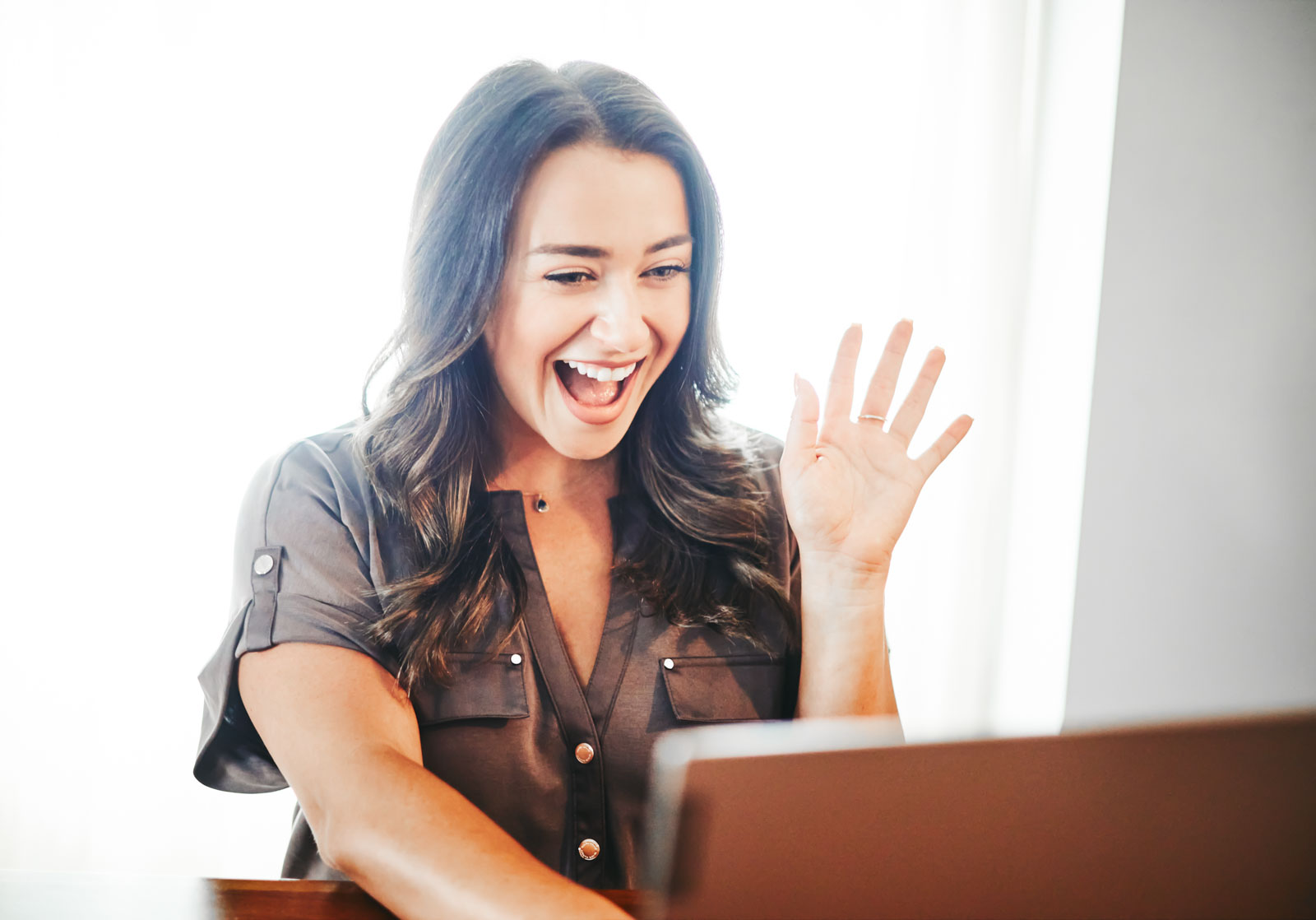 What's included in the programs?
1.
Kickoff Session
(1 virtual 45-minute session)
Establish Goals
Customize your plan
Set up online resources
Jumpstart your transformation!
2.
Skill-Building Sessions
(Virtual 30-minute sessions)*
Progress updates
Strategize for upcoming events
Overcome struggles
Auto-renew to get the results you want!
* 5 virtual meetings for The Essentials
19 virtual meetings for The Academy and The concierge
3.
Long-Term Follow-up
(3 virtual 30-minute sessions; 1 per month)
Deal with challenges
Stay motivated
Deep-dive topics
The Concierge Only
4.
Healthy Home Reset Sessions
(3 virtual 60-minute sessions)
Pantry clean out
Meal prep 101
Grocery shopping guide
and MORE!
How We Build Your Plan
First, your nutritionist/dietitian will determine how much energy your body needs to make it through a normal day. Using your age, height, gender, and other factors, we calculate how much energy (measured in calories) you will need to achieve your goal (weight loss, weight gain, weight maintenance). However, calorie counts are not rigid rules. Because everyone's body chemistry is slightly different, our counselors use this calorie range to determine macronutrient proportions to guide food intake. In building your plan, two factors are key: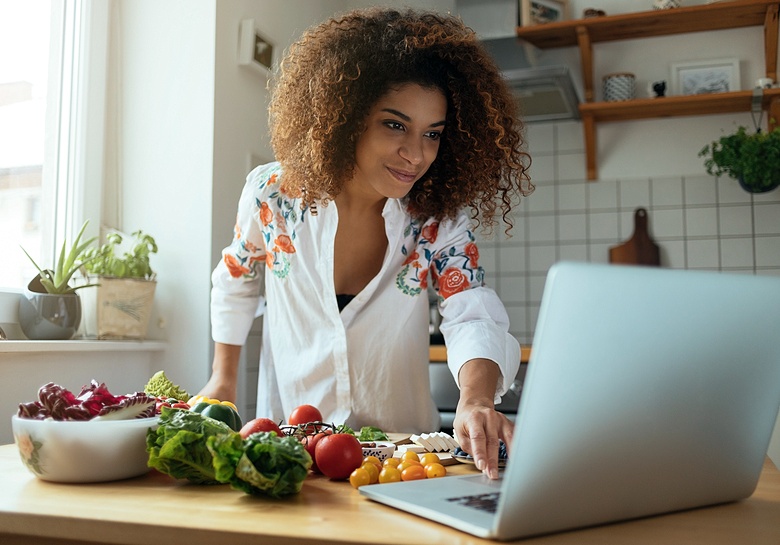 You should eat a variety of foods: A plan including all major macronutrients best supports long term health and eliminates ongoing feelings of deprivation. Your nutritionist/dietitian will help you determine if limiting certain foods long term will be helpful based on your specific medical needs.
You should not be hungry: Effective weight loss (if that's your goal) occurs when your body can maintain ongoing metabolic activity, plus being hangry just isn't fun. This also preserves and improves your relationship with food.
Your nutritionist/dietitian will work with you to structure your meals to include a variety of foods (protein foods, fruits, vegetables, starch containing foods, dairy) that include all of the macronutrients (protein, carbohydrates, fats) that your body needs to feel satisfied. Our approach divides the food universe into five categories to guide nutrition planning efforts:
Starches: whole-grains, starchy vegetables, beans, and many others
Protein Foods: poultry, pork, fish, beef, plant-based protein foods
Fruits: apples, oranges, bananas, and many others
Vegetables: peppers, carrots, lettuce, cucumbers, and many others
Dairy: milk, yogurt, cheese, plant-based dairy alternatives
Fat: nuts, seeds, unsaturated oils, avocado
Our goal is for you to eat 5-7 times a day, which includes a combination of larger meals and smaller snacks. The purpose is to eat enough food to maintain satiety and stabilize blood sugar levels. As you progress through your sessions, your nutritionist/dietitian (aka your nutrition coach) will teach you how adjust meal and snack times and reduce or increase your food intake to help you achieve your specific health goals.
Picking Your Meals
It is very hard to be successful if you are "forced" to eat food that you do not like. Furthermore, it will be even harder to create a sustainable routine if your meals do not fit your schedule. Your nutritionist/dietitian works with you to make planning your meals simple, including meals that both you and your family enjoy. All foods in the Complete Food Guide can be incorporated into any meal. However, certain rules are non-negotiable:
You must communicate with your nutritionist/dietitian and regularly and attend sessions: We want to help you!

You must eat breakfast: Gotta get that metabolism going!

You must log your food accurately: How are we going to help you improve?
For example, suppose you have an early morning work meeting. Your nutritionist/dietitian may suggest taking a bowl of fruit to eat in the car, or recommend instant oatmeal that you can eat in a few minutes before leaving your house. Maybe you are in the classroom all day with students and cannot eat lunch until 2 pm. Together, you and your nutritionist/dietitian will choose quick, easy snacks to keep you full throughout the morning and in control of your appetite. Perhaps you are getting together with other parents after your child's weekly play date. During your visit, we will check out the restaurant's web site and help you select a few nutritious options that are likely to be prepared in a healthy manner and align with your health goals. That way, you will arrive at your luncheon well-prepared and in control.
The point is, we know that you will be the most successful in creating a healthy routine and/or losing weight if you get to pick your meals and learn how to manage your day. We will help you get there.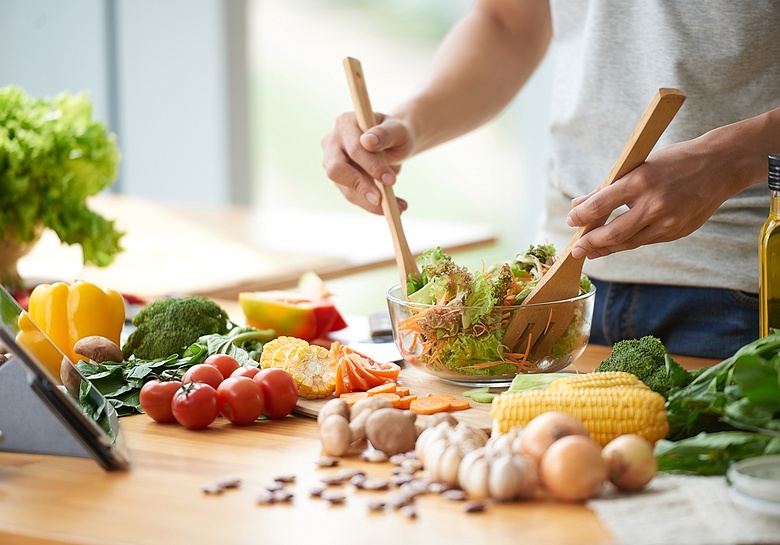 Your Materials
To ensure you are learning through your counseling, we have developed a comprehensive set of materials that will accompany you through your time with us. You will use these materials during skill-building sessions, and throughout the 167 hours of the week when you are not meeting with your nutritionist.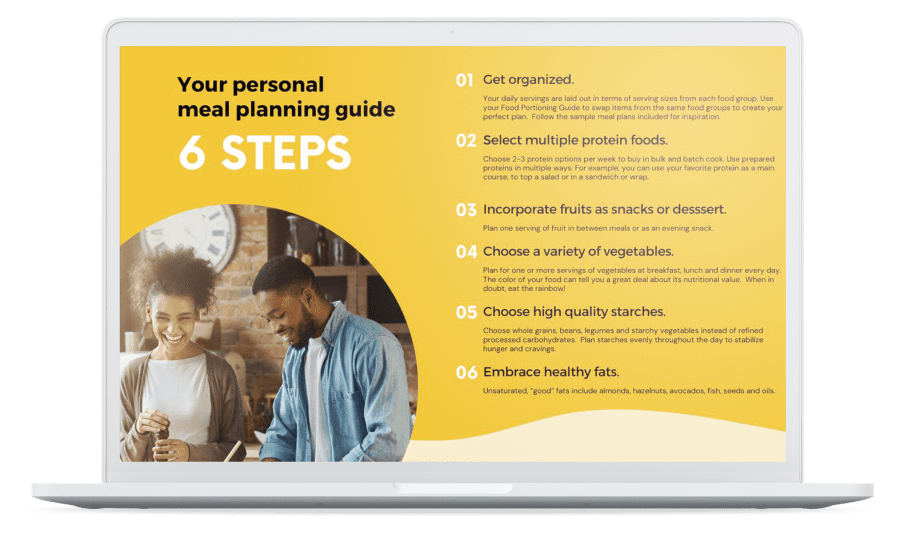 Meal Planning Guide
What It Is: Your nutritionist will build your personal Meal Planning Guide based upon your nutrition goals, demographics, activity level and current medical conditions. This plan outlines how many servings of each food group we recommend you eat each day in order to achieve your goals: protein, dairy, fruits, vegetables, and starch.
Why It's Helpful: Every change process requires a starting point. Your Meal Planning Guide is not to be treated like a "meal plan". It is flexible and can be molded to any eating preference and/or sch
How to use it: We review this plan during your first call and it serves as the foundation for your program. Your Meal Planning Guide is not to be confused with a "meal plan". It is flexible and will change as you continue through your counseling.
OnPoint Member Portal
What It Is: Our Member Portal is the center of all activity at OnPoint. Easily access upcoming online events, hundreds of recipes in our database, self-help books and podcasts, exclusive product discounts and our library of nutrition guides.
Why It's Helpful: 14 minds are better than 1! Content in our Member Portal is curated by the entire OnPoint team. Our portal provides hand selected resources that our entire staff loves to use with their clients.
How You Use It: Your nutritionist/dietitian will recommend resources from the portal based on your specific goals and health needs. You also have 24/7 access to discover resources that you and/or your family may find useful!
Recipe Database
What It Is: The Recipe Database contains healthy and quick recipes for breakfast, lunch, and dinner for all dietary preferences. Each recipe includes a breakdown of ingredients to help incorporate the meal into their daily plans.
Why It's Helpful: Perhaps you need a bit of inspiration. Our nutrition professionals have tailored each recipe to align with each food group and proper portion size. The meals are designed to be both nutritious and easy to make. Using these recipes promotes a healthy lifestyle and weight loss because our team has substituted poor ingredients with more nutritious options.
How You Use It: We hope that our database will help you build a repository of healthy options to promote your weight loss and weight maintenance. We regularly add new recipes each week!
Weekly Educational Lessons
What It Is: Available through our OnPoint app, our weekly lessons include information you need to help you reach your health goals. Content topics include Nutrition Education, Intuitive Eating, Pre-Diabetes, Type II Diabetes, PCOS, Gut Health, Plant Based Lifestyles and more!
Why It's Helpful: We want you to be an informed and active participant in your work with our team. With our structured support, you'll work at the pace you need to help you regain your confidence and lead a healthier lifestyle.
"My team and I would be honored to be part of your health journey! Our priority is your health and happiness; no goal is too big or too small. We look forward to working with you soon!"