Frequently Asked Questions
How is OnPoint different from other companies?
Our approach matches you with a registered dietitian or nutritionist who will learn about your struggles, provide ongoing support and accountability, and enable you to become the hero in your health journey!
Our philosophy is anti-diet with a focus on food groups and portioning. There is no counting calories, macros, eliminating major food groups or approaching this journey as a "quick-fix". We assist you in your health goals while maintaining a positive relationship with food.
Our goal is to provide you with the information and tools you need to use the knowledge you've gained in a sustainable way. We're here to help you ditch diet culture and take control of your health once and for all.
Do your dietitians specialize in different areas?
Yes! Check out all the things we help with below.
Acid reflux
Bariatric surgery recovery
Body image
Cardiac disease
Celiac disease
Crohn's disease
Diabetes: pre, type 1 & 2, gestational
Diverticulitis
Eating disorder recovery
Food allergies
Gut health
IBS
Improve relationship with food
Intuitive eating
Kidney disease
Low FODMAP
PCOS
Pre & post-natal nutrition
SIBO
Ulcerative Colitis
Weight Loss
Weight Management
Whole food/plant-based nutrition
What happens during my sessions?
Is there a curriculum?
There is no set curriculum as every client's journey is different. Our sessions are client-driven and are unique to your specific goals. You'll set weekly goals that align with OnPoint's philosophy to keep you on track and accountable during your program.
Will we also discuss movement and activity, not just nutrition?
Yes! Your dietitian will hit on all components of living a healthy lifestyle. They will assist with pre/post workout nutrition and offer recommendations to integrate more movement into your day.
Please note that our dietitians are not personal trainers and will not provide you with specific workout plans.
Will I get a meal plan every week? Will my dietitian send me recipes?
During your kick-off call with your dietitian, you will receive your meal planning guide. You will not get a meal plan every week, but you can certainly use your sessions with your dietitian to create a weekly meal plan.
We also have a member portal with a recipe database that you'll have access to during your program.
How will my dietitian help me reach my goals?
Your program is personalized to you. Your dietitian compiles information from your consultation and intake forms as well as medical history and uses this information to determine the best strategies to implement to help you reach your goals.
With our structured support, you'll work at the pace you need to help you regain your confidence and create lifechanging results.

Learn More
The 7 Major Benefits of Working with a Nutrition Coach
What is your success rate?
Success rates are different for different people and can be influenced by a variety of things. Your success is contingent on your commitment, dedication and hard work within your program. We have successfully helped over 3,000 clients reach their goals.
Learn More
What Our Clients Are Saying

How do you measure progress and/or success?
There are many markers of progress, including non-scale victories. We promise confidence overall in making decisions that will affect your WHOLE-health. You can measure your progress by stepping on a scale, how your clothes fit, your mental health/clarity and energy levels.
It's important to be flexible and also to build sustainable habits slowly over time. Your dietitian isn't here to give you a quick fix, but to educate you along the way so you can feel confident in your lifestyle choices.
What if it doesn't work?
There's a reason why you're here! Over the years, multiple studies have shown that quick-fix diets are not sustainable. We have many clients come to us after yo-yo dieting with no success. Our programs have worked for over 3,000 people and counting, and we can't wait to support you in this journey.
How do I know which OnPoint program is right for me?
During your consultation, we will discuss your goals, medical history and barriers to reaching your goals. Depending on what you want to achieve here with us, we will meet you where you are and recommend a program that fits into your life.
Learn More
Personalized Nutition Coaching vs. A Diet Plan
Do you accept health insurance?
Yes, OnPoint is an in-network provider with Independence Blue Cross, Blue Cross Blue Shield, Cigna, Aetna, and United Healthcare.
Eligibility for coverage is dependent on the state in which you live. This includes green, yellow or gray states below, plus New Jersey, Florida, Georgia, Ohio and North Carolina plus your plan specific benefits.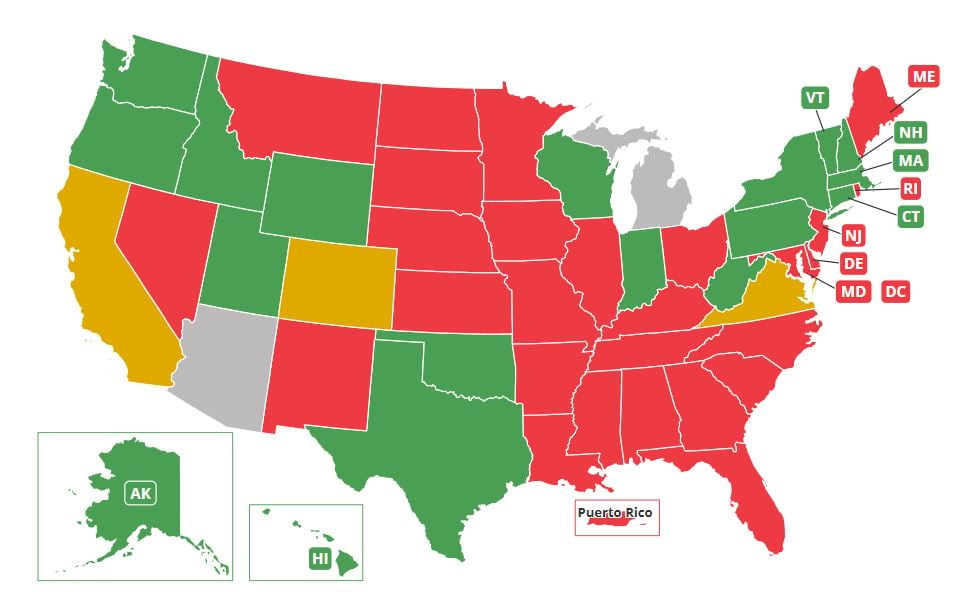 Our team is happy to conduct an eligibility check on your behalf to better understand if this is an additional payment option for you.
Learn More
Does Health Insurance Cover The Cost of Nutrition Counseling?

What forms of payment do you accept?
OnPoint accepts all major credit cards. Our programs may be eligible for reimbursement with a flexible spending account (FSA) and health savings account (HSA) with a letter of medical necessity. Individual coverage may vary.
How long do people work with you?
Our programs auto renew to get the results you want. After the first 10 weeks, we determine session frequency until you're ready to move on to the next phase. Skill-Building Sessions auto renew in 10-week increments with check-ins happening twice a week, weekly, every other week or monthly.
At the time of renewal, you can change your frequency of your sessions. If you want to change your frequency in the middle of your program, you can only do so if you choose to upgrade.
You'll always have a conversation with your dietitian before your next renewal. Based on your goals and progress at the time of renewal, you'll collaboratively make the decision on how you will move forward.
What do you take into consideration when matching me with a dietitian?
Many of our dietitians specialize in specific areas. We match you with a dietitian who we feel will be best aligned with your goals and personality. A genuine connection between you and your dietitian is essential for success.
Your dietitian is your coach from beginning to end. All sessions and messaging are with 1 member of our team.
Learn More
How to Find the Best Nutrition Coach for You
What does my dietitian need from me to personalize my experience?
It's important to share as many details as possible on your consultation so that we can give your dietitian information that will assist them in creating your program materials. You will also be asked to complete an intake form and medical history to further customize your plan.
Lab results can also be very helpful for your dietitian to know where you are in your journey depending on a certain diagnosis. If you do have a chronic illness that could benefit from getting labs drawn, we can certainly recommend.
Learn More
Personalized Nutrition Coaching Vs. a Diet Plan

What is Holistic Nutrition Counseling?
How can I get in touch with my dietitian outside of sessions?
You will have messenger support with your dietitian through the OnPoint Nutrition app. Your dietitian will do their best to respond to your messages Monday-Friday 8:00am-5:30pm EST.
Learn More
Our Technology

Do you offer evening or weekend hours?
Sessions are available Monday-Friday 8:00am-5:30pm EST.
Do you offer couples or group programs?
Yes! We offer two options for couples – shared sessions or separate sessions with the same dietitian. Our group programs are offered at various times throughout the year and are limited to 8 seats per group.
What ages do you work with?
OnPoint requires clients to be over the age of 18
Do you offer discounts?
We do offer a 5% discount to Active Military and also couples choosing to do separate sessions within a couples program.
What can I do if I am unhappy with my service or if I don't click with my dietitian?
It doesn't happen often, but if you feel that you'd work better with another dietitian, we are happy to accommodate.
Our refund policy can be found here.