Adam
About: Workout junkie, golfer, loves finding healthy options when eating out
Goals: Weight loss (goal weight of 200 lbs within 3 years) which will prevent health concerns and/or reverse fatty liver risks and transform self-image in a positive way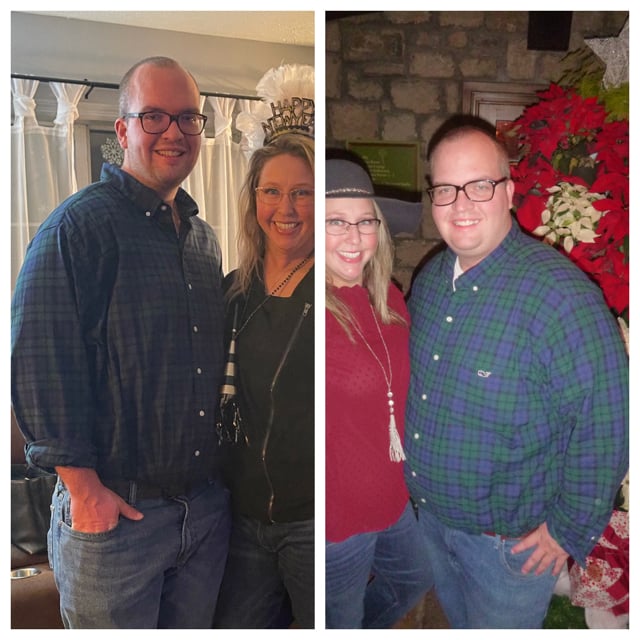 The guidance from OnPoint will set you up for success, you need to implement those initiatives to see the change. Their staff is knowledgeable and amendable to help you overcome any challenges.
What prompted you to make a change?
Thanks to my trainer Anthony T. @crossfit_tiberium, I developed a pretty healthy relationship of exercising. Had success in building muscle and losing weight. However, I felt my body having a hard time adjusting to the increase in activity, thought it had to be my diet. I was frustrated with the contradictory advice from the internet about the optimal diet plan to support weight loss and workout regimen. From fasting diets to high protein/low carb, each diet plan was hard to adhere too because of my schedule and various recommendations from site to site. I spoke to my doctor about the need for a dietician referral, he said with my travel schedule, I should look into telehealth or online compatible companies. I contacted four different nutrition companies that provided online video-based counseling and had excellent reviews on Google. On May 15, 2020, I spoke to Britney (OnPoint Founder/CEO), who was compassionate and driven to help her clients. She thoroughly explained her company's mission and philosophy. I enjoyed our conversation and received positive reinforcement of the work I completed thus far. The connection I had established with Britney was genuine, compared to the discussions with the other companies. OnPoint philosophy sounded more freeing and providing guidance to overcome the constant fluctuations in my travel schedule.
How has your life and health changed since working with OnPoint Nutrition?
My workout performance was the first thing that changed. Eating a balance of starches, protein, veggies, and fruit provided the essential fuel to kill it in the gym. I was able to hit my WODs with more intensity and felt less sluggish post-workout. I was able to incorporate more heavy lifting throughout the week, in addition to my Crossfit WODs. I also noticed my work performance changed, and I relied less on coffee to keep me awake after lunch. Quality of sleep changed for the better, I experience less nighttime reflux.
What would you tell someone who is thinking about working with OnPoint Nutrition?
It's a two-way street; you get back what exactly you put in. The guidance from OnPoint will set you up for success, you need to implement those initiatives to see the change. OnPoint provides on-demand messaging with your nutritionist, open communication will provide the support needed. Their staff is knowledgeable and amendable to help you overcome any challenges.
What was the hardest part of your journey? How did get through it?
Eating six times a day and preparing meals (not eating out). For me, I started to eat the same thing for breakfast and lunch. It made grocery shopping and food preparation easy. It may sound boring, may not work for everyone, but I enjoy the meals. Ivy has also suggested additional ingredients to improve or add a slight variation, to make it less mundane.
What do you feel was unique about your situation that other people may relate to?
Before COVID-19, I traveled a lot. For eight years, I traveled every week Monday through Thursday. My wife and I never planned or cooked any meals; I was a frequent customer to fast food at home and business dinners on the road. However, during this pandemic, my routine drastically changed to work from home full time. In addition to this, COVID affected local restaurants, so we were forced to order online or cook at home. My wife was very supportive, with my diet changes; however, she preferred more variety than the items I could make. So, we decided to eat dinner out more. Fortunately, using online ordering allowed me to research and converse with Ivy, to identify the best food options. We continue to order online; however, I know my go-to items at each restaurant to support my regimen. I hope to transition this knowledge when traveling resumes.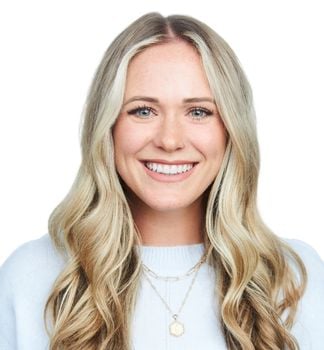 Ivy
Adam worked exclusively with our team member Ivy Eliff. When Ivy isn't working with clients, she's hitting the gym, flowing on her yoga mat, cooking up something delicious and nutritious in her kitchen and if it's the summer, spending any free second at the shore.
Schedule your free consultation today
Before starting your journey with our team, we would love to chat!