Lieren
About: Wellness fairy, aspiring Nutritionist & Personal Trainer, overcoming candida overgrowth, leaky gut and autoimmune dysfunction, currently raw vegan
Goals: Weight loss, improve painful cystic acne and rosacea, control heartburn, gut health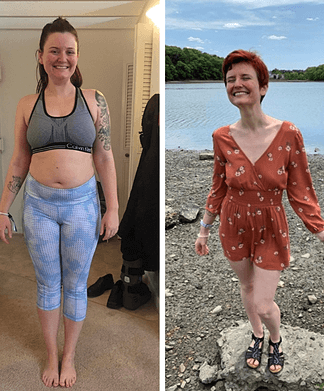 With the proper guidance and treatment of my chronic condition, I couldn't be happier!
What prompted you to make a change?
When I decided to call OnPoint, I was at rock bottom with my physical health. I was almost 30 pounds overweight, had painful cystic acne and rosacea, and never-ending heartburn, bloating, constipation, and stomach pain. I couldn't stay consistent with my diet or physical activity, and as a result my body was in crisis. I was inspired to build a better life for myself, and getting the help I needed with nutrition seemed like a great place to start.
How has your life and health changed since working with OnPoint Nutrition?
What HASN'T CHANGED?! Working with Ivy helped me to realize that there was something more going on than just being overweight. At first, I was following the program perfectly, and still only losing a pound or two a month. Ivy was the one to encourage me to go to a naturopath, where I was diagnosed with candida overgrowth, leaky gut, and autoimmune dysfunction. From this diagnosis, we switched up my daily portions to help aid my body in healing, and from there the rest is history! Not only did I lose over 40 pounds, but now I'm confident in my ability to nourish my body. I eat intuitively and abundantly, and I no longer feel any discomfort from the food I eat. I have an abundance of energy throughout the day, and I'm much stronger than I used to be. Overall, I'm just the happiest and most vibrant I have ever been!

I learned that I am resilient, strong-willed, flexible, and capable of taking care of myself the way I deserve. I'm so grateful for all the lessons I've learned that I've decided to become a certified nutritionist and personal trainer myself, so that I can help other men and women who are silently suffering reclaim their health, vitality, and self love!
What would you tell someone who is thinking about working with OnPoint Nutrition?
I get a lot of questions these days about my diet, willpower, exercise, you name it! The first thing I tell everyone is to reach out to a trusted nutritionist, and I can't say enough good things about OnPoint. The online approach is perfect for me, and even though I've never even FaceTimed with Ivy (technical issues, am I right?), she is still a trusted ally in my health journey and has been invaluable in helping me navigate the waters of multiple complex autoimmune issues. THANK YOU Ivy & OnPoint Team for helping me get to where I am today!
Are you happy where you are now, or are you still working to change? What are future goals you would like to achieve?
It's often overwhelming how grateful I am for where I'm at now with Ivy's help. Ironically, my biggest concern now is keeping weight on! Now that I'm confident in my lifestyle, I'm focusing on building muscle mass and endurance so that I can reach athletic performance in the gym and in outdoor activities, and eventually help others do the same. I still deal with the occasional flare up of autoimmune issues, but they are few and far between. I look forward to getting my clear skin back and healing my gut once and for all.
What part of your transformation are you most proud of ?
The part of my transformation I'm most proud of is all of the changes that happened on the INSIDE! It's awesome to be practically swimming in all my clothes, it's fantastic to be told I'm thin or that I look healthy, but what's really magical is how much more I love myself now, and how much easier it is to communicate with my body. It makes me a better friend, girlfriend, daughter, and sister. I show up for myself now, every day. I don't cheat myself -- if I know a food is bad for me or will cause me discomfort, I don't eat it. I take pleasure in choosing healthy options and no longer see it as a punishment! It's a truly liberating feeling. Throughout my unique journey, the biggest challenge has been realizing when a particular food is no longer serving me, and adjusting my routine to eliminate/replace the problem foods. This was REALLY hard! I'm proud of my ability to be flexible and really listen to what my body is telling me. That's not something I was able to hear before, but now when my body talks, I LISTEN. In return, I'm rewarded with good health and a clear mindset. This is a lesson I will carry with me for the rest of my life, and it would have taken a lot longer to learn without Ivy & the OnPoint team's guidance through the confusing parts.
What do you feel was unique about your situation that other people may relate to?
There are so many people who are suffering from "invisible illnesses" like candida and leaky gut, and I know personally how frustrating it can be to get a clean bill of health from medical professionals while struggling terribly with day-to-day life. I hope that my story inspires others to never give up on themselves, and serve as a reminder that YOU CAN achieve health and vitality! Our bodies are meant to feel good, and they CAN feel good! Don't give up, keep persevering. If I can overcome these obstacles, anyone can!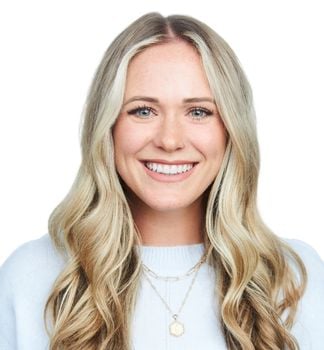 Ivy
Lieren worked exclusively with our team member Ivy Eliff. When Ivy isn't working with clients, she's hitting the gym, flowing on her yoga mat, cooking up something delicious and nutritious in her kitchen and if it's the summer, spending any free second at the shore.
Schedule your free consultation today
Before starting your journey with our team, we would love to chat!