Amanda
About: Personal trainer/fitness junkie, veggie lover
Goals: Build lean muscle mass while losing fat, become a fitness guru, live a long & happy life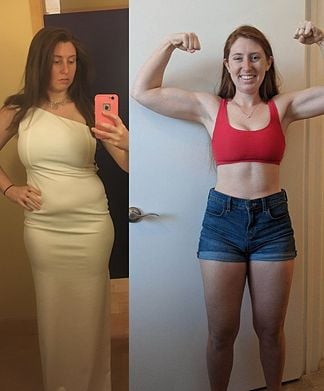 How do you thank someone for changing your life? I don't think words can really express how thankful I am that I had Ivy and OnPoint to help me in this lifestyle change.
What prompted you to make a change?
There are so many people out there claiming to be experts who know the answer to weight loss and a healthy diet. I was fed up with having to keep pace with what was okay and not okay for me to eat. I was very confused about what would help me towards my goal of losing weight. I wanted real help, from real people who studied nutrition. When people are sick they go to the doctor, so why should receiving nutrition advice come from anyone other than a dietitian or nutritionist? I knew that if I wanted to get real results and real answers to my questions about eating right, a nutritionist/dietitian was the only way to do it. I chose OnPoint specifically because it was an anywhere, anytime access. I didn't have to mold my schedule around my appointments or travel. The nutritionists at OnPoint are all online, so I could easily fit them into my schedule. I never would have been able to meet two times a week if it hadn't been online. That's another reason I chose OnPoint, because of the frequency. I knew that changing my lifestyle would take a lot of work and a once a month approach wouldn't work. I liked the fact that at OnPoint we had appointments twice a week. That was exactly what I needed.
How has your life and health changed since working with OnPoint Nutrition?
I've also lowered my body fat percentage and gained a large amount of muscle mass. With regards to BMI, I went from being overweight to now being in the normal category. I have a lot more confidence now, and I am so proud of what I have achieved because of all the hard work I have done to get here. I have also been able to wear clothing I never thought I could pull off, and I am really happy! I feel different. I remember everything used to feel like it was too hard to do because I didn't have enough energy to do it. I would be tired for no reason or have an upset stomach or heavy feeling that would keep me from doing things. I now feel ready to spring into action for anything! I feel lighter in the inside, like my body is no longer holding me back physically or mentally. I feel extremely capable to do anything and everything. I also have a newfound appreciation for foods I never used to like, and have been discovering new foods and flavor combinations I now like. I have also noticed my taste buds have developed more. Things I didn't use to enjoy, like blueberries, taste different to me now and I love them. I also have become more active. I am interested in spending my time doing sports because I feel athletic for the first time in my life. I go to the gym all the time and am proud to be a regular. Right now I am thinking about joining a boxing class or an adult gymnastics class to embrace what my body can now do. I am also studying to become a personal trainer!
What have you learned since working with the nutritionists at OnPoint Nutrition?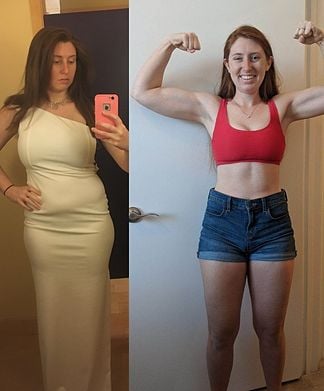 I have learned that everything is okay in moderation. No more good or bad foods. We focused on healthier choices, yes, but in the end if I wanted to eat a cupcake or go out with coworkers for a team lunch, I could, and I wasn't messing up my diet. I learned how to incorporate foods I craved into my diet, and to make these changes to create a sustainable lifestyle. I have also learned about portion sizes. I had no idea that 6 oz is roughly the serving size of most vegetables, which meant I was barely getting one serving size of veggies a day before starting with OnPoint. I now have three servings of veggies a day, which is a huge change for me! I don't think words can really express how thankful I am that I had Ivy to help me in this lifestyle change. I couldn't have imagined doing this without her. She is a really honest and genuine person, who lives by the advice she gives, so I looked to her as not only a nutritionist, but also a mentor and friend. We shared recipes, worked through challenges, and found ways to change my previous habits so that I could lead a healthier lifestyle.
What would you tell someone who is thinking about working with OnPoint Nutrition?
Do it! You will never regret investing in yourself and in your health. It is hard to make a lifestyle change, and that's why it is so important to have someone that can help. I tried losing weight on my own for a long time, and I didn't see any results. Even when I had a personal trainer for a few months I still wasn't losing weight. It wasn't until I incorporated the advice I got from OnPoint into my life that I actually lost weight for the first time. What have you have to lose?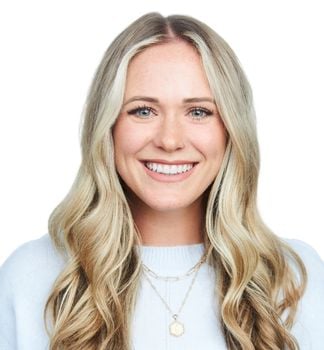 Ivy
Amanda worked exclusively with our team member Ivy Eliff. When Ivy isn't working with clients, she's hitting the gym, flowing on her yoga mat, cooking up something delicious and nutritious in her kitchen and if it's the summer, spending any free second at the shore.
Schedule your free consultation today
Before starting your journey with our team, we would love to chat!