Alice
Goals: Weight loss, develop healthier habits for her family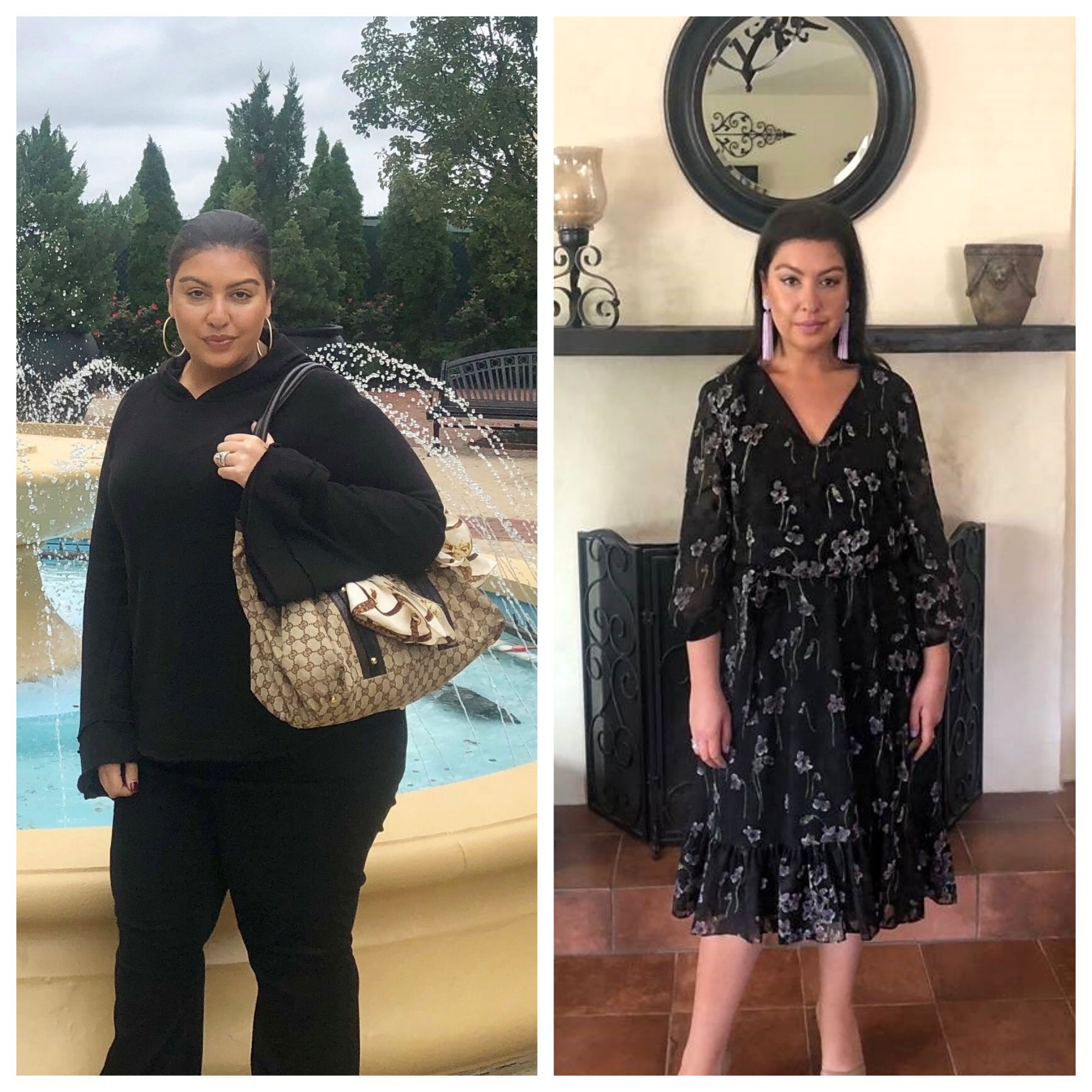 If you are reading this, do this one thing for yourself. Call Britney, ask for Zoe, and trust the process.
What prompted you to make a change?
Well, if I was being honest, I truly believe it was fate. My daughter started a new school in 2017 and at orientation, I met another mom, Kara. We quickly became friends and our daughters did as well. As we got to know each other, she mentioned that she had lost a considerable amount of weight with a program called OnPoint Nutrition. I was intrigued, to say the least, since I had struggled with weight almost all of my life. I had lost weight numerous times by every fad diet imaginable and had gained it all back more times than I care to remember. I remember her mentioning that she spoke to a nutritionist every week and that she ate a certain number of carbs, fats, etc...per day. It took me a year from when we met to ask for Onpoint's contact info. For a year, I witnessed her eat "normal" meals that consisted of pastas and bread accompanied by the occasional glass of wine, when we went out to restaurants. I also witnessed her ordering her favorite ice cream, mint chocolate chip, during numerous playdates, without gaining an ounce! On the contrary, she was still losing weight right before my eyes! I had never witnessed anyone eat those types of foods whilst losing weight. It went against everything I knew about dieting and I literally couldn't believe it. I had to try whatever she was doing, I just had to! So, she gave me Britney's name and number in July of 2018 and the rest is history!
How has your life and health changed since working with OnPoint Nutrition?
My life, that sums it up in a nutshell! The physical aspect of it is obvious and so is the fact that I feel better but the biggest change for me has been that I no longer feel controlled by food. Whether it was eating too much and gaining weight or not eating enough and starving to lose weight, I always felt like food controlled me and it had a hold of me for over 25 years. I have finally taken back that control and I must say that it feels liberating! I can eat my meals, my snacks, go out to restaurants, have dessert and wine while losing weight and feeling fabulous doing it! For the first time in my life, not only do I think about what I put into my body but I feel GOOD about it. I'm no longer deprived of the foods that I love and I'm not resentful of thinner people around me that eat whatever they want because I do the same! My relationship with food is finally a healthy one and I NEVER thought that I would EVER say that. That's priceless if you ask me!

Speaking of priceless, I really feel that meeting Kara was written in the stars for me. I look back at how unhealthy and unhappy I was with myself often and it brings me to tears every time. I've been very blessed in my life and don't have much to complain about but my "thing" was my weight. It was this relentless thorn in my side that affected every aspect of my life and it was the one obstacle that I could not overcome, no matter how hard or how often I tried. Meeting Kara has changed my life and not only because she introduced me to OnPoint but because she's a true and supportive friend. She has been by my side throughout the entire process ready and eager to answer any and all questions that I had. She would get excited for me every time I shared my weigh-in results and would quickly and proudly tell anyone who would ask me what I've been doing that I'm working with OnPoint and would say "How good does she look?!" I've thanked her numerous times but I really don't think she'll ever fully understand the magnitude of love and gratitude I have for her. I'm just hoping that someday, somehow I'll be able to help her as much as she's helped me.
What have you learned since working with the nutritionists at OnPoint Nutrition?
OnPoint Nutrition basically rewired my brain when it comes to WHAT I think about food and how food makes me FEEL!
I don't think I could list everything I've learned in the space provided but I'll give it a shot!
I can eat out (which I love to do) and lose weight
I can enjoy a glass (or 2) of Chianti and lose weight
I can have some chips and lose weight
I can have some chocolate and lose weight
I can have some pasta and lose weight
The key to all of the above is that I just have to plan for it and keep track to ensure I don't go over my allotment for the day!
Do not restrict yourself from ANY type of food
I do not have to feel guilty if I overindulge one day, I just move on and get back on track
If I overindulge (because we all will, we're human) it does NOT negate all of the progress I've made
I do not miraculously gain weight overnight after eating out, it's just the excessive SALT intake! Drink plenty of water and the extra bloat will be gone by the following day! ***This was a biggie for me***
Drink water (something I knew but never did) Now I drink 80+ ounces a day!
There are healthy alternatives for almost EVERYTHING, find them! And sometimes, just eat the regular high calorie version and move on 😋
I can still cook tasty meals (which I love to do) without dousing my meals in extra virgin olive oil **Also a biggie for me** I practically used to drink olive oil. Now, I measure it out and/or use the EVOO spray and I don't miss it one bit!
Balsamic vinegar is my best friend
Mustard is my best friend
Oats are my best friend
Sweet potatoes are my best friend
Keep snacks on hand AT ALL times
My go-to snacks...pretzels, almonds, toasted chickpeas, apples & bananas
NEVER skip a meal that includes snacks!
Not all carbs are created equal
Ground chicken is delicious
Eating pineapple & bananas won't make me gain weight
EATING FRUIT AT NIGHT WILL NOT MAKE ME GAIN WEIGHT
I LOVE the Nudge App and I will use it for the rest of my life
I could probably keep going but these are my major takeaways from working with Zoe. I still learn something new every week during our call sessions though and I'm sure I'll be learning from her for the foreseeable future!
What would you tell someone who is thinking about working with OnPoint Nutrition?
First, I'd say, ask for Zoe! To say that she's been amazing would be an understatement. She's such a calming force in my life and she's always available to me via the Nudge App. I've messaged her countless times asking for help with healthy recipe substitutes, restaurant meal options, snack ideas, her opinion on specific food items I wanted to buy at the grocery store, celebratory moments during weigh in, not so celebratory moments during weigh in...Whatever it is, she's always been there. She's even helped me identify triggers that make me overindulge in high calorie foods. She warns me if she detects any of those triggers in the upcoming week and helps me prepare for it, so I don't grab a bag of chips to cope. She's like my confidante, my secret weapon and she has been a HUGE part of my success. If you are lucky enough to get the chance to work with Zoe, TAKE IT and thank me later.

Second, I'd tell them that within 2-3 weeks of starting with OnPoint, you won't even need to check the Nutrition guide to see what a certain food counts as, it'll become second nature. The only reason I mention this is because it felt a little overwhelming at first. Fortunately, that feeling quickly subsided as I unintentionally committed the information to memory. That was the only intimidating part of this entire process if you could even call it that!

Third, this program will become a way of life. This is not a fad; it's not something you'll do for a specific amount of time and then stop. OnPoint Nutrition is a lifestyle, at least it is for me! Once you start, there's no going back because you WILL see results and it's just too easy. If you're on the fence about signing up with OnPoint, don't be. The only regret I have with this entire process is that I wish I had signed up when I first met Kara. I wish I never waited. I would've gained another year of feeling amazing, another year of buying clothes that I actually like, another year of feeling energized in the morning, another year of just. Being. Happy.

If you are reading this and have given up all hope of losing the weight, just do this one last thing for yourself. Call Britney, ask for Zoe, and trust the process. You will see the weight just melt off, there are no ifs and or buts about it. It just happens and I know because it happened for me!
Schedule your free consultation today
Before starting your journey with our team, we would love to chat!