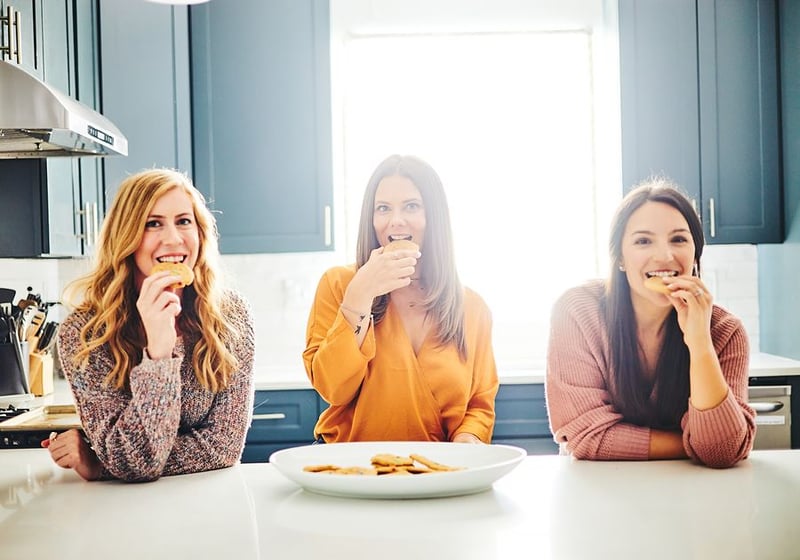 If you landed here, chances are you're looking for support with eating for PCOS.
Searching for a PCOS dietitian can be an overwhelming process. Searching for an educated, qualified dietitian can be an even more overwhelming process.
We're here to save you time, energy, and maybe even money.
Instead of sifting through the endless options available and wasting time with coaches or diet programs that don't work, we made this list for you.
Here at OnPoint Nutrition, our team of dietitians and nutritionists has helped over 3,000 people just like you find the best dietitian for them and achieve their goals.
We believe in the power of nutrition and know how valuable quality nutrition counseling is. We don't want anyone to get sucked into another program that simply does not work.
We also know that we're not the only dietitians who help people like you navigate eating for their PCOS, and clients often ask us how we compare to other nutrition coaches and programs.
Because we truly want you to find the best dietitian for you, we put together a list of the best PCOS dietitians to work with.
Best Dietitians to Help Manage PCOS
Martha McKittrick, RD
Who Are They?
Martha McKittrick is a registered dietitian and nutrition expert who has specialized in PCOS for the past 20 years.
What Do They Offer?
Martha offers one-on-one counseling both virtually and in-person in NYC.
She works with clients with PCOS on:
Improved hormonal balance
Lowered insulin levels
Decreased inflammation
Regularity of menstrual cycle
Lowered blood sugar, cholesterol, and triglyceride levels
Decreased carbohydrate cravings
Increased energy levels and mood
Improved sleep
Improved skin and hair issues
Decreased risk of diseases
More self-esteem and empowerment
Martha also offers a 6-week online nutrition course, PCOS Nutrition & Lifestyle Blueprint, that helps individuals take charge of their PCOS and achieve their goals.
Why Did They Make Our List?
Martha has years of experience counseling individuals with PCOS. Her options for both individual counseling and an online course make PCOS guidance accessible.
Nourish PCOS
Who Are They?
Nourish PCOS is run by Lisa Johnston, a registered dietitian and certified diabetes educator, who specializes in PCOS.
What Do They Offer?
Lisa's goal is to help women control PCOS symptoms, regulate monthly cycles, and reduce PCOS-related infertility.
Nourish PCOS offers personalized nutrition guidance that starts with an initial virtual consultation and continues with four follow-up sessions over eight weeks.
Throughout the duration of the program, individuals also have access to an online portal where they can ask questions and receive support, accountability, and motivation.
Why Did They Make Our List?
Nourish PCOS doesn't just provide general PCOS guidance, they provide personalized nutrition and lifestyle guidance, which includes advice on what, when, and how much to eat, and PCOS-friendly recipes.
The PCOS Dietitian
Who Are They?
The PCOS Dietitian is run by Amy Plano who specializes in creating customized PCOS weight loss plans for women. Her goal is to help women lose weight, optimize fertility, and be the healthiest version of themselves.
What Do They Offer?
The PCOS dietitian helps women with PCOS:
Improve their fertility
Decrease their risk of developing diabetes and heart disease
Improve their mood as well as increase energy levels
Provide education about PCOS and related health conditions
Amy offers four different programs, which are each tailored to each individual's PCOS challenges, physical and metabolic needs, and lifestyle requirements. Each package is available for in-person counseling in Connecticut or counseling via Skype or phone.
Why Did They Make Our List?
Amy has been working closely with top doctors in women's health and fertility for a decade. She has the knowledge and expertise to help women with PCOS see real results.
PCOS Nutrition Center
Who Are They?
PCOS Nutrition Center was founded by Angela Grassi, a registered dietitian who has overcome PCOS with nutrition and lifestyle for herself and helps other women do the same using a Health at Every Size approach.
What Do They Offer?
The PCOS Nutrition Center offers nutrition coaching specifically for PCOS in a comprehensive three-month nutrition program that focuses on sustainable changes in health habits.
Women who complete this program can expect to see:
Skin conditions improving
Improvement in libido
Fertility, or the ability to conceive, improving
Improvements in mood, anxiety, and depression
Why Did They Make Our List?
After struggling with PCOS herself, Angela knows how overwhelming this diagnosis can be, and is here to help people struggling now find the balance she has found.
Stephanie Paver, RD
Who Are They?
Stephanie Paver is a women's health dietitian and PCOS and fertility expert. She uses a functional medicine approach to improve your lifestyle holistically.
What Do They Offer?
Stephanie works with women with PCOS who want to control their symptoms and get pregnant. She takes a comprehensive look at women as a whole person and works to uncover the root cause of their symptoms so they can find relief.
Stephanie offers personalized nutrition counseling that includes:
A comprehensive initial consultation
Stool testing
Hormone testing
Micronutrient testing
Genomics analysis
A minimum of four months of follow-up sessions
Digital food and wellness journaling
Collaborating with your healthcare team
Why Did They Make Our List?
Stephanie takes a holistic approach to PCOS and works at getting to the root of the condition, not just treating the symptoms.
The Women's Dietitian
Who Are They?
The Women's Dietitian is run by Cory Ruth, a registered dietitian and women's health expert.
She works with women with PCOS and hormone imbalance to help them heal without restrictive diets and avoiding the foods they love.
What Do They Offer?
The Women's Dietitian offers one-on-one nutrition counseling for women struggling with PCOS, as well as multiple online PCOS programs.
Cory's PCOS programs include:
PCOS Boss Academy
Get Pregnant with PCOS
Breaking Up With Birth Control
All three of these programs are provided online and designed specifically for women with PCOS.
Why Did They Make Our List?
Cory has personally struggled with PCOS and knows that it takes perseverance to create lasting health changes and solve issues at their roots.
How To Choose the Best Dietitian for You
Now that you have more details on six of the best PCOS dietitians, it's time to narrow down your choices and make your decision.
We recommend taking two steps to choose the best fit for you.
Step 1: Educate Yourself
If you haven't already, spend some time educating yourself on dietitians, nutrition counseling, and everything they entail so you are prepared to find the best fit for you.
Learn more:
Take some time to learn more about the dietitians and programs you are interested in, too. We gave you the basics, but the more information you have the more confidence you will feel.
Confidence in yourself, and in your dietitian, will allow you to fully commit and achieve your goals once and for all.
Step 2: Ask Questions
If you're not 100% sure that a dietitian is right for you, ask more questions! The relationship you have with your dietitian is important so making sure they are both qualified and a good fit for you is crucial.
You may want to ask questions about their:
Education
Certifications
Training
Specialties
Personality
Level of support
Is OnPoint The Nutrition Counseling Service for You?
While these six are some of the best PCOS dietitians, we truly believe in the effectiveness of our PCOS nutrition counseling.
Our team is experienced in working with women with PCOS. We take a holistic approach to PCOS and personalize everything we do for each individual woman.
We're passionate about learning and love to teach. Our blog covers PCOS topics ranging from foods to eat and foods to avoid with PCOS to PCOS and weight loss and more.
If these factors have you ready to take the next step in your journey, learn more about our nutrition coaching programs, then schedule a consultation to take the first step toward your goals.
Topics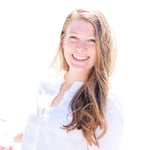 Liz has been reading nutrition labels since she learned how to read. Growing up with severe peanut and tree nut allergies she learned that it's important to know what you are putting into your body. She made her first big lifestyle change as a freshman in high school, when she decided to become a vegetarian. However, it wasn't until she took a food class in Italy as part of a study abroad program in college that it clicked in her mind that she wanted to make food and nutrition her career. Liz graduated from Penn State University in 2015 with a bachelor's degree in Nutrition, as well as a bachelor's degree in Marketing. She completed her dietetic internship with Aramark in Philadelphia, and her master's degree at Northeastern University shortly after.