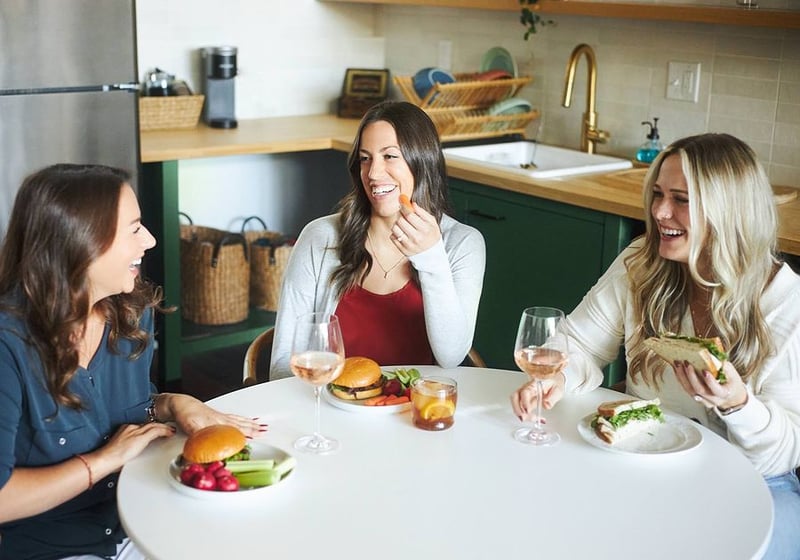 As you may already know, honeygrow's nutrition focus is taking the fast-casual restaurant world by storm, especially right here in Philadelphia. Regardless of what neighborhood you're in, a honeygrow shop is often within walking distance. If you've been living under a rock and haven't heard of this start-up eatery, don't worry. I'm here to give you the 411 – honeygrow nutrition and all the delicious things you'll find there.
As a Nutritionist and vegetarian, I eat a whole lot of salads. I love them, but sometimes I need a bit of a change. Honeygrow sets a new standard by offering salad and stir-fry bowls with nutrition in mind.

To be honest, the first time I set foot in a honeygrow store, I wasn't sure what to do (kiosk ordering was strictly Wawa and Sheetz territory). Fortunately, the kind man at the register noticed my confusion and explained the whole process! Once I learned how to order and pay on one of the computer kiosks, the rest was smooth sailing.

Honeygrow's menu includes five suggested stir-frys and five salads. Each dish is customizable with the option to add or take away ingredients, swap the protein, or change the dressing. If you're not feeling one of the pre-fix menu items, create your own! This is the first place where you will notice Honeygrow's nutrition focus.

As for the food itself, the flavor is exceptional with lots of variety. However, some dishes are more of an "occasional treat" than a "nutritionist approved" everyday meal. When it comes to building a healthy and nutrient dense lunch at honeygrow, you may need to be a bit more thoughtful about building your meal. Think about the main components– the base, the toppings, the protein, the sauces/dressing, etc.

For the warm bowls, I recommend a whole grain option as your base. Stick to brown rice or whole wheat noodles rather than egg white noodles or rice noodles for a more nutritious dish. Consider adding extra veggies, eating half, and saving the rest for your next meal (two meals for the price of one!).

This week I tried the seasonal spiralized beet caesar salad. It's a nice combo of chopped romaine, kale, spiralized beets, pears, red onions, candied pecans and shaved parmesan. Here, honeygrow nutrition can look good AND taste good!

The standard order contains - 510 calories, 35g carbohydrates, 33g fat, 19g protein

I added roasted shrimp to increase the protein content to 31 grams total, creating a more protein-rich meal. I also swapped the rosemary parmesan dressing for fresh lemon juice to reduce the total fat (subtract 165 calories!). If there's one thing you remember– always, always, always, light dressing or dressing on the side! That way you control how much goes on your salad. This week I went with a salad, but the options are endless.
OnPoint Favorites: Highlighting honeygrow's nutrition standouts
White Bean Tuna Salad: 480 calories, 33g fat, 22g carbohydrate, 27g protein, 7g sugar
Pro Tip: order dressing light or on the side to decrease total fat
Make It Grain Salad: 640 calories, 29g fat, 80g carbohydrate, 22g protein, 28g sugar.
Pro Tip: ask for half the serving of quinoa to lower total carbs, limit the spiced agave cashews to decrease sugar and fat
Sesame Garlic Stir-fry:

740 calories, 44g fat, 89g carbohydrate, 41g protein, 8g sugar.
Pro Tip: eat half for lunch and save half for the following day, add additional vegetables (spiralized golden beets, extra broccoli)
For the Kiddos: Steamed brown rice + olive oil & parmesan + parsley + broccoli & green beans + all-natural chicken
Putting it all together!
Honeygrow has many nutritious options, but not all dishes are created equal. Be mindful of the calories, nutrients and ingredients. Opt. for light dressing or take it on the side. Be okay with modifying a dish and taking your time reviewing the menu instead of going with your first instinct.
Eating healthy doesn't have to be hard – learn the basics and keep them in your back pocket whenever you're dining out. If you haven't yet, go dine with our nutrition-minded friends at honeygrow and let OnPoint know what you think!
Want to read more about our top picks in Philly? Click here!