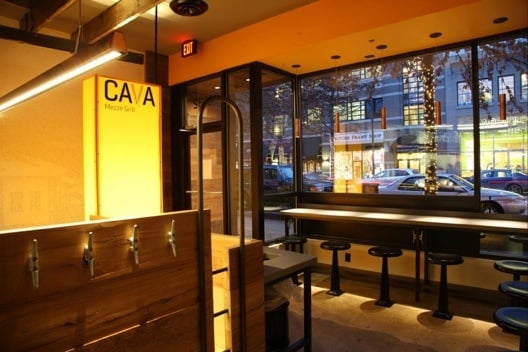 Cava is opening on 18th and Chestnut today and is giving away free food. This is a huge upgrade for Philly's lunch crowd. Find out how to build a deliciously healthy meal below!
Dining Smart at Cava
Watch out Philly, a new fast-casual restaurant is coming our way. Cava is opening this week and we're here to tell you how to Keep It Healthy at Philadelphia's newest eatery. Founded by three first-generation Greek Americans, Cava brings to life authentic Mediterranean flavors in a new and modern way. Started as a single restaurant in Maryland, Cava has grown to more than 60 locations. You may have already tried some of their products without even realizing it: Cava has a line of chef-crafted dips and spreads at Whole Foods and other specialty grocery stores! At this build-your-own, Chipotle-style restaurant, it's doable to create a nutrient-dense meal that meets your nutritional goals. Follow my tips to create a delicious and nutritious meal that will have you begging for more! It's a simple ordering process: start with a base, choose a max of three dips and spreads, then add your protein. Toppings come next and finish it off with dressing.
OnPoint Recommends:
Salad: choose from SuperGreens, Organic Arugula, Spinach, Romaine and/or SplendidGreens. When in doubt, go with the greens. Packed with vitamins, minerals and fiber, leafy greens will be the most nutrient-dense, low-calorie way to start your order.
Greens + Grains: half portion of greens with a half portion of black lentils is another way to go. Adding a hearty grain brings more substance to your dish and provides protein, iron and folate. The high levels of soluble fiber can also help reduce blood cholesterol!
OnPoint Recommends:
Roasted Red Pepper Hummus and/or Traditional Hummus: hummus is always a good choice because its high fiber content will keep your digestive tract finely-tuned. Although the portion size is modest, even a little bit of hummus increases the protein content of your dish.
Eggplant + Red Pepper Dip: a blend of roasted eggplant, bell pepper, Greek yogurt and fresh herbs to round out a balanced, low-cal dip. Greek yogurt is an amazing base for dips because it is high in protein and includes a bit of healthy fat.
OnPoint Recommends:
Grilled Chicken: Opt for grilled chicken, which is served in an approx 5 oz portion. Why do we like it, you ask? Well, its fat content is the lowest out of all protein options. Plus, this lean protein is extremely filling and jam-packed with amino acids, what's not to love?
Roasted Seasonal Vegetables: significantly lower in protein but still a winner due to the stellar nutritional profile – low in calories, high in vitamins and minerals. Try half falafel, half roasted seasonal vegetables for the best of both plant-based worlds.
OnPoint Recommends:
Go for all the veggies: shredded romaine, tomato + onion salad, pickled onions, cabbage slaw, diced cucumber, tomato + cucumber salad. The more vegetables you can add, the better. Feel free to add lemon wedge and/or mint to spice things up.
OnPoint Recommends:
Sriracha Greek Yogurt: even in small amounts, you will still reap the benefits (yay for probiotics and Vitamin B12) from that Greek yogurt base!
Green Harissa: simple ingredients, healthy fats, no added sugar, big flavor – 10/10 would recommend.
If you're more of a numbers person, you can find Cava's full nutrition calculator here.
The most important thing to remember when eating out, regardless of where, is balance! Strive to create a meal with a base of vegetables (about 50% of the dish), a moderate serving of whole grains or starchy vegetables (25% of the dish) and some sort of lean protein (25% of the dish). The rest is just extra but could make or break your meal. Be mindful of spreads, dips, dressings and anything else that's regularly high in flavor, and unfortunately, fat and sodium. Now that you've been schooled, what are you waiting for? Go get your Mediterranean on!
Topics