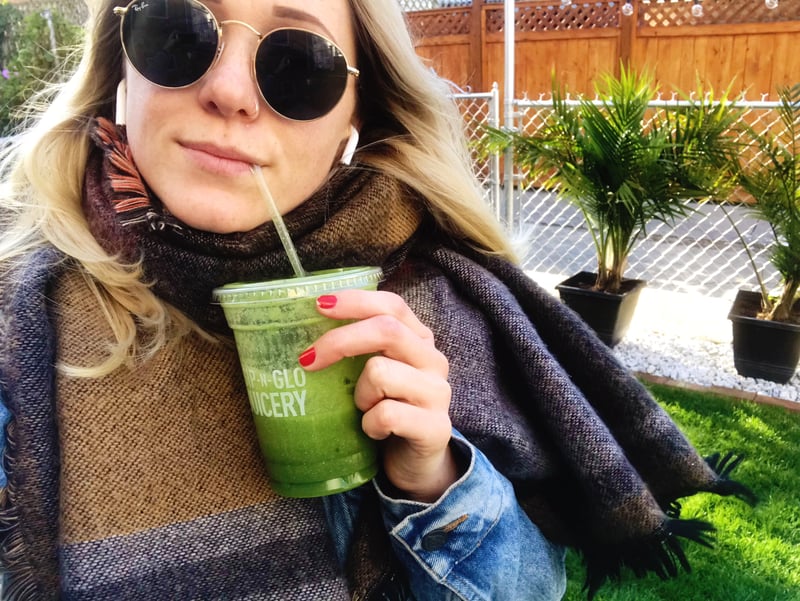 In a city known for their cheesesteaks and soft pretzels, it's not always the easiest task to find a place to grab a quick and healthy bite to eat. Don't worry, we're here to make life easier and send you in the right direction.
Honeygrow | @honeygrow | #hgLocal
Founded in Philadelphia, honeygrow is a fast-growing, start-up minded, restaurant concept. With six locations in the City of Brotherly Love and more than ten in the surrounding area, honeygrow makes it easy to build a healthy meal. Here, the team is dedicated to using fresh, local ingredients to create what Founder Justin Rosenberg calls "awesome things through the lens of nourishing foods". Mission accomplished.
As a busy bee working in Center City, I typically have 20-30 minutes to order, purchase and scarf down my lunch. The honeygrow app's order ahead feature is a lifesaver. Convenience is key, people!
Pro Tip: To get $5 off your first order, download the app "hg + mg", sign in, enter your pick-up location, and order your grub. Plus, you will feel like a boss for skipping the line.
Now for the food: The eclectic menu contains five suggested stir-fry options and five salads. And the best part? You can customize each item: add or remove ingredients, swap the protein, or change the dressing. Worried about vegan, vegetarian or gluten-free options? Don't be, honeygrow has all your bases covered.
Pointers:
To build a nutrient dense salad at honeygrow, be mindful when choosing your ingredients and remember that less is more when it comes to the dressings.
For stir-fry, I recommend going with a whole grain option as the base. Stick to brown rice or whole wheat noodles rather than egg white noodles or rice noodles. Consider doubling your veggies and saving half for your next meal.
If you're building a meal for your daughter or son, check out our pointers here
Read the full honeygrow write-up here!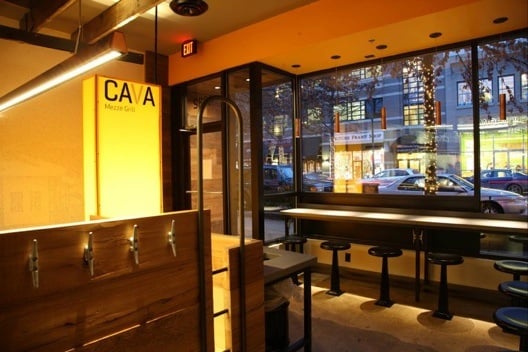 Cava has stormed onto the fast casual scene with a healthy way to build a delicious Mediterranean lunch. The company already has 60 locations nationwide and also sells its products in local Whole Foods Market locations. Its new Philly location is based at 18th and Chestnut.
Building a dish will look familiar: pick a base, and then add dips/spread, protein, toppings, and dressings.
Pointers:
Pick chicken as your protein. Don't underestimate their chicken, it's delicious! Save the other protein options for a special treat
Load up on veggies. They're unlimited, so add as many as you'd like!
The dressing can make or break your lunch: the Sriracha Greek Yogurt is an awesome choice
Want the full scoop on how to own the Cava menu? Read the full write-up here!
SNAP Kitchen | @snapkitchen | #LifeMadeHealthy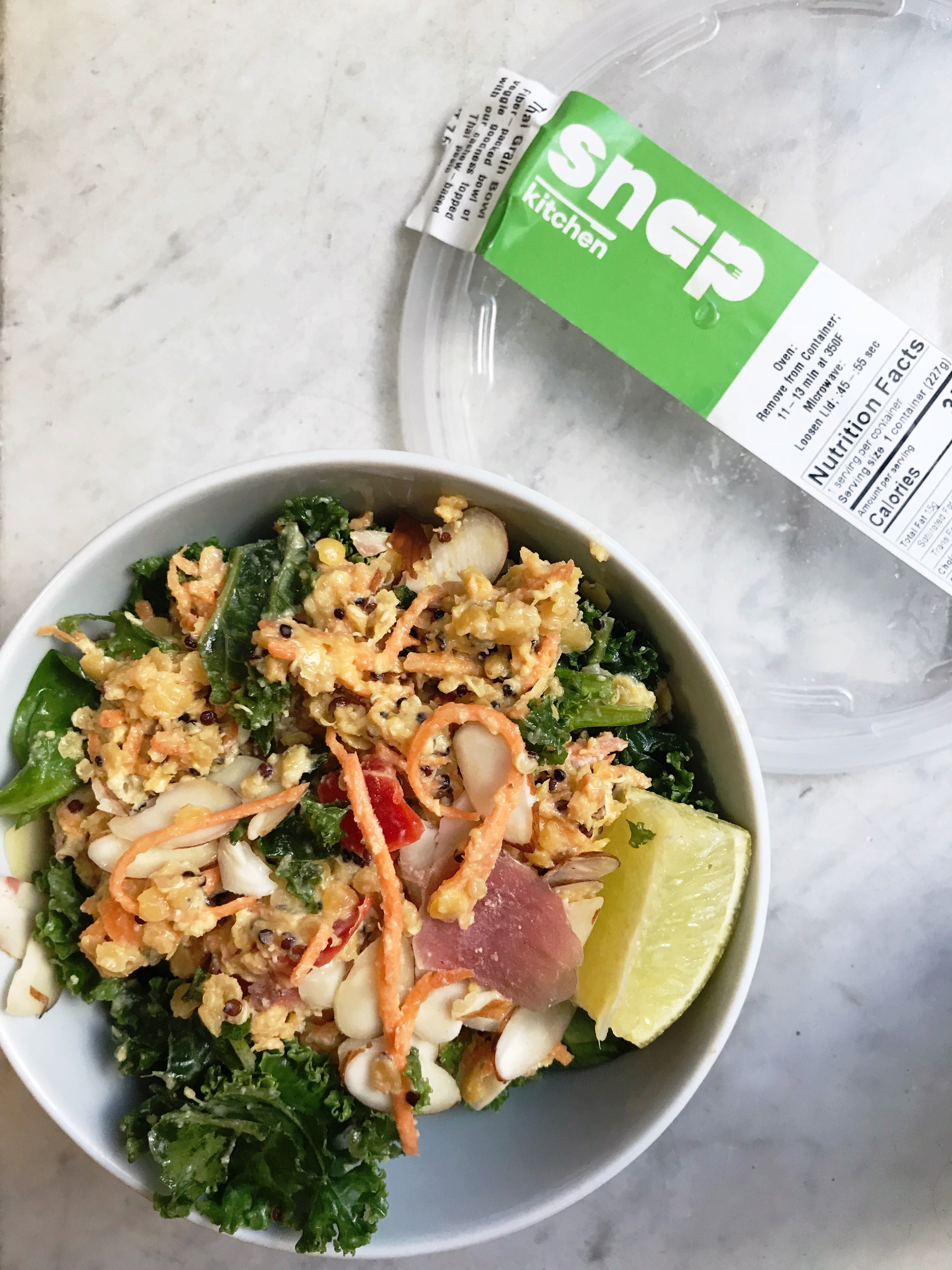 Snap Kitchen is on a mission to create "healthy meals for busy people" and I can say that they have done just that! Whether you buy a three-, five- or seven-day meal plan or grab a pre-packaged breakfast, lunch or dinner, Snap has you covered for the big and small. In a nutshell, Snap Kitchen caters to the busy individual with no time to shop, prepare and cook their own meals daily.
The intuitive Snap Kitchen app makes ordering easy, and their delivery feature is perfect when you forget lunch and can't find a minute to sneak out of the office. I really like their newest feature: meal subscriptions. Designed by an on-staff dietitian, the meal plans are completely customizable to fit your daily needs. You start by choosing a plan that fits your needs: Low Carb, Balance, Vegetarian, High Protein, Whole30, Paleo or Build Your Own. On each packaged dish, you will find the calorie count as well as the macro breakdown for fat, protein and carbohydrate.
Pro Tip: Download the Snap Kitchen app and start earning "snapfunds". For each $1 you spend, you earn 1 point. For every 200 points, Snap will add $10 of snapfunds to your personal account. Share your code with friends to earn $10 in snapfund credits when a friend uses your code on their first order!
The food itself ranges from a uncomplicated combo of chicken, veggies and brown rice to comfort food with a healthy twist. Snap Kitchen's menu is more adventurous than you may expect: they offer breakfast, lunch, dinner, salads, sides, snacks and more. You can even get a serving of dark chocolate if you're craving something sweet.
Pointers:
Watch your sodium; choose options that contain no more than 600 mg of sodium per serving. The Daily Value for sodium is less than 2,300 mg per day so don't use it all on one meal.
OnPoint Favs: Naked Salmon, Beef or Chicken, Thai Grain Bowl, Shrimp Scampi.
Read the full Snap Kitchen write-up here!
Hummus Republic | @hummusrepublic | #HummusRepublic
Happy Hummus-ing at Philadelphia's newest fast-casual Mediterranean eatery! Hummus Republic is raising the bar for "fast food" through its flavorful and convenient meals. The company sources fresh farm produce. We love this approach because it provides customers with healthy food and it protects our planet.
Pro Tip: Check in on Yelp and get a free drink during your first visit!
The menu style is "Build Your Own." Start with a salad, pita or bowl base. Next, choose up to three organic hummus dips/spreads, add one protein (or half and half!). Go wild with unlimited toppings and finish it off with a home-made dressing. If you're not feeling any of those options, there's more to choose from. My favorites include the Earth Burger – Hummus Republic's famous vegan burger, sweet potato fries, seasonal soup and more!
Pointers:
Take advantage of the unlimited toppings! Add all the veggies- pickled red onion, chopped salad, diced beets, white cabbage, fresh jalapeno, chopped cucumbers, pomegranate kale salad, pickled red cabbage.
Although falafel is tempting, only order it once in awhile or choose half falafel/half grilled protein to reduce your meal's fat content.
Sip-N-Glo Juicery | @sipnglo | #sipnglojuicery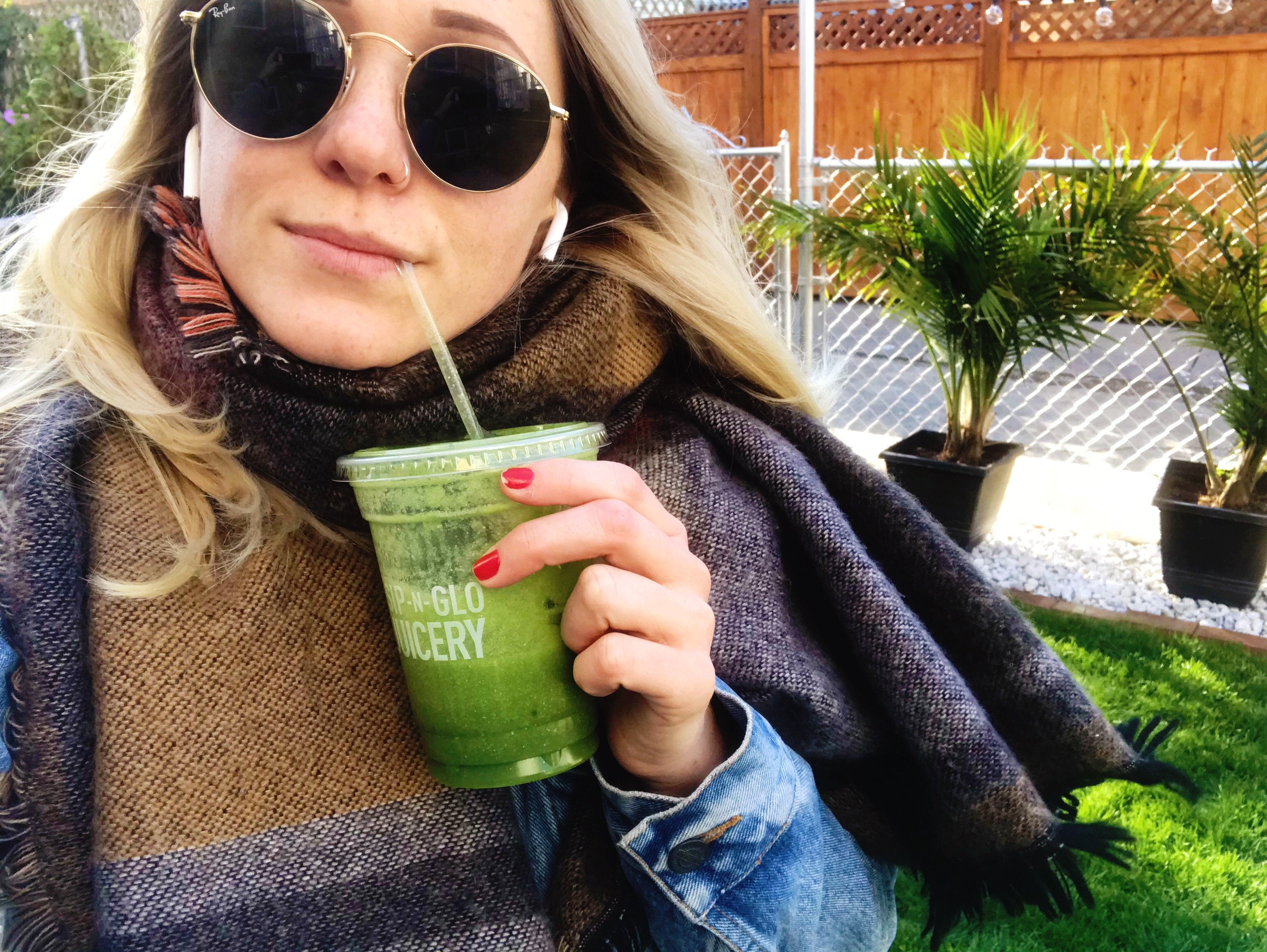 Native to Philadelphia, Sip-N-Glo is my go-to spot for nutrient-packed juices and smoothies. For some, a smoothie doesn't sound like a complete meal. However, if you know what to look for and how to build one, a smoothie can easily be a quick on-the-go meal. Locally sourced and involved within the Philadelphia community, Sip-N-Glo helps you and your neighbor make "healthy" a habit.
Pro Tip: Check out the Monthly Seasonal Specials on Sip-N-Glo's website for new juices and smoothies to try!
From Cold Pressed Juices to Chilled Soup and Smoothies, there's nothing artificial about Sip-N-Glo's products. From the first sip, the freshness knocks you out. Their extensive menu displays ingredients, tastes, and product benefits so you know exactly what you're getting before you dive in.
Pointers:
If you're looking to make your smoothie a meal, include protein, vegetables and fruit
OnPoint Smoothie Favs: Goji Glo (35g carbs, 18g protein, 12g fat), Green Balance (14g carbs, 26g protein, 16g fat)
Read the full Sip-N-Glo write-up here!
Sweetgreen | @sweetgreen | #sweetlife
Seasonal healthy salads and bowls made easy. Sweetgreen transforms your everyday salad into an all-time favorite meal. Started as a farm-to-table salad shop in 2007, sweetgreen has now blossomed into a booming business with more than 100+ locations, including three in Philadelphia! The founders want their visitors to think about healthy eating in a different and positive way.
Pro Tip: To save time, order and pay in advance so all you've got to do is pop in to your location, snag your food and be on your way! If you're a frequent customer, take advantage of sweetgreen rewards. For every $99 spent within 120 days, you earn $9 in credits to use towards your next meal!
I'll tell you what, sweetgreen has perfected the flavor combos in its salads and bowls. The best part is that seasonal dishes are always coming and going. Yes, of course I was sad to see the peach + burrata salad leave, but it was replaced with the delicious chicken + brussels. So sweetgreen, I forgive you.
Pointers:
Keep your eye on the calorie count – some warm bowls have almost 800 calories per dish. The ingredients are great, but the average person does not need that much food in one meal.
If there's starch (sweet potato, quinoa, rice, corn, etc.) in your bowl or salad, consider skipping the extra slice of bread to keep your carbohydrates in check.
Want the scoop on other popular stops? Follow the link below for more!
Topics