We live in a world where we can get most things we want very quickly.
You can order something and have it ready for curbside pickup, or better yet, on your doorstep within hours. However, not everything is available with just a few clicks.
If you've tried to lose weight or otherwise improve your health in the past, you know the process isn't always quick and easy. It takes time and effort, in addition to motivation and dedication.
The process is often frustrating and you may feel like you're barely progressing. We understand because we hear this all the time.
We are here to help.
At OnPoint Nutrition, our dietitians and nutritionists work with people just like you every single day. We provide personalized nutrition counseling to help you achieve your health and wellness goals.
Not only that, we guide you to make the process more efficient and help you navigate every step.
We also know that one of the hardest times is after you achieve your goal. The majority of people will slide back into old habits and end up undoing the progress they have made.
Again, we are here to help.
Our dietitians don't leave you hanging as soon as you check off your last goal. We continue to support you in building healthy habits that can last a lifetime.
So how long does all of this take?
In this article, we'll discuss what the process of working with a dietitian to reach your goals and maintain the results looks like. We'll also discuss how different goals alter the timeline you can expect for working with a dietitian.
How Long Should You Work With A Dietitian?
To better understand the timeline of working with a dietitian, we need to dive into what the process of your work with your dietitian will look like.
From there, we can get more specific about what the timeline may look like for you.
Achieving Your Goals With A Dietitian
Step 1: Getting Set Up
Before you dive into a program with a dietitian, you will likely have an initial consultation to discuss your goals and get a little more information about their program.
Here at OnPoint Nutrition, you can schedule a free consultation call anytime.
After your consultation, you will be matched with a dietitian whose expertise best suits your needs, and be ready to get moving toward your goals.
Step 2: Getting Started
The initial session with a dietitian is often the most intense because there is a lot to cover. You want to get to know each other, discuss your goals, learn more about the program, and lay out a plan for getting started.
Oftentimes, the initial session will be longer than follow-up sessions to give you time to adequately discuss everything you need to know to get started.
Step 3: Making Progress
Depending on the program(s) your dietitian offers and the meeting frequency you select, you will continue to meet with your dietitian regularly as you progress toward your goals.
You may meet your dietitian as often as two times each week, or as infrequently as once each month. The goal is that you are meeting often enough to receive the guidance you need, discuss issues as they arise, and maintain a supportive environment for you to be successful.
This is the part of the process where how long you work with your dietitian is determined.
As mentioned above, your goals will play a large role in determining the timeline for your work with a dietitian. We will discuss this more in detail below.
Step 4: Maintaining Progress
This is the step we have all been waiting for. You have achieved your goals!
Now, your goals shift to maintaining the progress you have achieved. While you may be tempted to say goodbye to your dietitian at this point, it's a good idea to keep us around a little longer.
No matter what you have overcome to get to this point, there will still be bumps in the road. While you're likely equipped to handle them, having your dietitian here to support you through them will ensure you don't fall off track and end up back at square one.
This is a good time to see your dietitian less frequently and test the waters on your own a little more, while still having the support of your dietitian that you can fall back on if you need it.
Determining Your Timeline
Every person that starts nutrition counseling is a little bit different. No two people are the same so there isn't a standard timeline to find success with a dietitian.
At OnPoint, our clients work with us for at least 20 weeks to start, but some continue to meet with their dietitians for years!
However, your goals play a large part in determining how long you will need to work with a dietitian to be successful.
For example, if you are hoping to lose 10 pounds, your timeline will be significantly different than someone who is looking to lose 100 pounds. If you are newly diagnosed with prediabetes, your timeline will be significantly different than someone who has struggled with uncontrolled diabetes for years.
So how do you know how long it will take you?
Let's look at some common goals and what the timelines may look like.
Weight Loss
As dietitians, we meet with a lot of people who are looking to lose weight.
From the example above, the amount of weight that you are looking to lose will affect your timeline.
One important factor to consider is that a safe, healthy rate of weight loss is between ½ and 2 pounds per week.
While there are diets out there that boast weight loss of 10 pounds in 2 weeks and similar nonsense, these are not sustainable approaches and will not be supported by a registered dietitian.
Another factor to consider is that most people notice their weight loss slows over time. If you start off losing 2 pounds each week, you will likely not continue to see your weight drop that quickly for weeks and months on end.
Setting a realistic timeline for your weight loss is key to success for both you and your dietitian.
Diabetes or Prediabetes
Again, from the example above, the severity and history of your diabetes or prediabetes will affect the timeline you can expect to work with your dietitian.
If you are newly diagnosed, there can be a lot to learn about testing and controlling your blood sugar. Your dietitian is here to provide you with both the knowledge and skills you need to be successful.
Your dietitian is also here to help you develop an eating pattern that works for you, your body, and your diabetes.
Sometimes, bodies respond quickly and it is easier to find a way of living that controls your blood sugar. Other times, there is more time and effort required to determine what works best for your body.
Being patient and learning to work with your body is key to managing your diabetes now, and for years to come.
Gastrointestinal Concerns
GI disorders including IBS, Crohn's, Ulcerative Colitis, and Diverticulitis are all concerns that a dietitian can help you control.
As with the other goals discussed, the severity of your condition and your medical history will play a role in your timeline.
If you are still undergoing testing, the process will likely be longer than if you have completed testing with your gastrointestinal doctor and know what the cause of your GI concerns is.
Additionally, some GI issues require following a low FODMAP protocol, or another elimination diet, to fully understand your body's triggers. Elimination diets take weeks, or even months, to execute properly and will lengthen the timeline with your dietitian, but also immensely improve your overall health in the long run.
Improving Your Relationship With Food
As dietitians, we know that many people have a disordered relationship with food and feel disconnected from their bodies.
This isn't something that happens overnight, it is often something that has been reinforced year after year. Sometimes, from a very young age.
The good news is that a dietitian can help you build a better relationship with food and make peace with both food and your body.
Again, the history of your relationship with food, and the severity of your issues with food and your body will play a role in determining how long it is appropriate to work with a dietitian.
Another factor that impacts this timeline is your willingness to release your fears surrounding food. Now, we know that this is challenging because many of these have been your beliefs for a very long time. However, your willingness to let them go and see things differently still significantly impacts the amount of time it takes for you to find freedom from food fears.
What's Next?
Now that you have some clarity on how long you may want to work with a dietitian, you can make a better decision on what dietitian, program, and frequency are right for you.
If you are ready to dive into nutrition counseling, or at least ready to gather some more information, we are here for you.
Here at OnPoint Nutrition, our team of dietitians and nutritionists has helped over 3,000 people just like you get matched with a dietitian and achieve their goals.
As we discussed above, before starting any nutrition program with OnPoint, we offer a free consultation with our team so you can discuss your goals and timeline, and determine which program is the best fit for you and your needs.
Learn more about our programs, before jumping on a call with our team.
When you're ready, schedule your free consultation, to complete step one in your journey!
Topics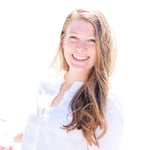 Liz has been reading nutrition labels since she learned how to read. Growing up with severe peanut and tree nut allergies she learned that it's important to know what you are putting into your body. She made her first big lifestyle change as a freshman in high school, when she decided to become a vegetarian. However, it wasn't until she took a food class in Italy as part of a study abroad program in college that it clicked in her mind that she wanted to make food and nutrition her career. Liz graduated from Penn State University in 2015 with a bachelor's degree in Nutrition, as well as a bachelor's degree in Marketing. She completed her dietetic internship with Aramark in Philadelphia, and her master's degree at Northeastern University shortly after.