Until recently, there was little research and science-backed best practices on dietary approaches to relieving PCOS symptoms. Various low-inflammation approaches have been proposed as PCOS treatments, including plant-based and vegan methods.
A quick aside about vegan and plant-based diets: vegan diets consist of eating grains, vegetables, and fruits. If you decide to practice a vegan diet for PCOS symptom management, it is imperative to include high quality carbohydrates. Even under a vegan diet, limit carbohydrates to 45% of your daily caloric intake.
Because vegan diets consist of vitamin- and mineral-rich whole foods, they can be tremendously useful in alleviating PCOS symptoms. Research has shown that following a proper vegan diet can improve ovulation, regulate menstruation, and reduce risk for future conditions associated with PCOS, such as type 2 diabetes.
Is there Scientific Research on Vegan Diets and PCOS?
A study of women with PCOS by the University of South Carolina found that:
A Vegan diet led to more effective weight loss efforts

Dietary improvements were more likely to be sustained after six months
Other studies have also demonstrated that plant-based diets can be effective for weight loss, and by association, can contribute to alleviating PCOS symptoms. Similarly, the Alternative Healthy Eating Index was shown to reduce general inflammation, and may be effective in treating PCOS.
Putting a Vegan Diet for PCOS in Practice
If you are considering a plant-based diet to help manage PCOS, treat other conditions, or simply to improve your overall health, there a a few helpful rules of thumb to follow. You can find our recommendations on how to build a healthy plant based diet here. Speak with our dietitians and nutritionists to ensure you are eating a nutritionally sound vegan diet to reduce weight and manage PCOS symptoms.
To read more about foods to avoid, foods to eat, and how to make easy changes as part of a healthy PCOS diet, download our PCOS Nutrition Guide.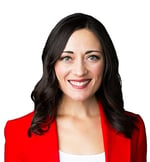 Britney Kennedy is the founder and CEO of OnPoint Nutrition. Since opening in 2016, she and her team have helped over 2,500 individuals become happier, healthier more confident versions of themselves.