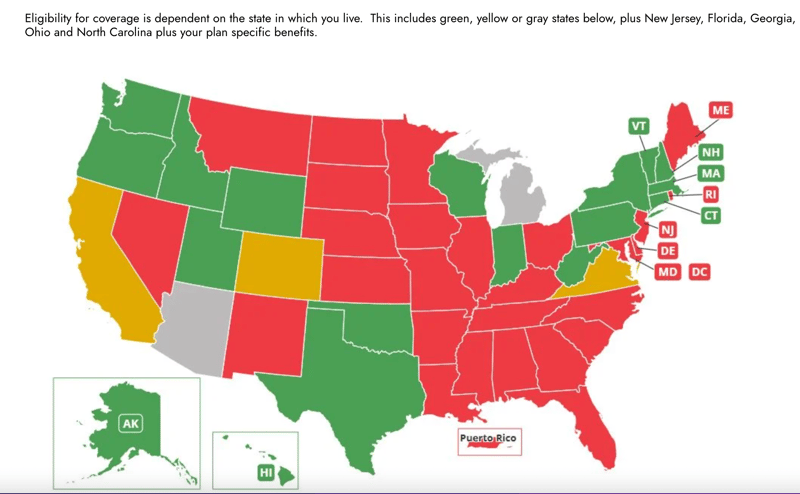 In the pursuit of health and wellness, many people find themselves at the crossroads of seeking professional help and navigating the complex maze of health insurance.
Among the various medical services available, sessions with a registered dietitian often become a crucial part of a comprehensive health improvement plan. However, understanding insurance coverage for these services can be a daunting undertaking.
That's why we at OnPoint Nutrition, an award-winning team of registered dietitians and nutritionists, are committed to not only providing expert, science-backed nutrition counseling, but also to helping you navigate these insurance complexities.
In this article, we aim to clarify key concepts and terms related to insurance coverage for dietitian services, simplifying your journey towards healthier living.
Get comfy because we are about to break it all down!
Understanding Health Insurance Basics
Understanding insurance starts with knowing the basics. Health insurance serves to reduce the financial burden of health-related expenses, acting as a safety net that can make essential healthcare services more accessible and affordable. This is particularly pertinent when it comes to nutrition counseling, a field that bridges the gap between healthcare and personal well-being.
Key Insurance Terms Related to Dietitian Services
Preventive services: These are routine health care procedures, such as screenings and check-ups. Some insurance plans cover nutrition counseling as a preventive service.
Medical Nutrition Therapy (MNT): This is a therapeutic approach to treating medical conditions with a specifically tailored diet, overseen by a dietitian.
Essential Health Benefits (EHB): These are a set of health care service categories that certain health plans must cover, which can include dietitian services.
Pre-authorization: This is a decision by your health insurer that a health care service, treatment plan, prescription drug, or durable medical equipment is medically necessary.
Premium: This is the amount you pay for your health insurance plan.
Deductible: This is the amount you pay for health care services before your insurance begins to pay.
Co-payment: This is a fixed amount you pay for a covered health care service.
Out-of-pocket maximum: This is the most you have to spend for covered services in a plan year.

In-network and out-of-network:

These terms refer to the facilities, providers, and suppliers your health insurer has contracted with to provide health care services.
Superbill: These are used when clients live in a state in which we can't bill their insurance (red) states directly. It's a detailed receipt of their appointments that they can submit directly to their insurance company for reimbursement.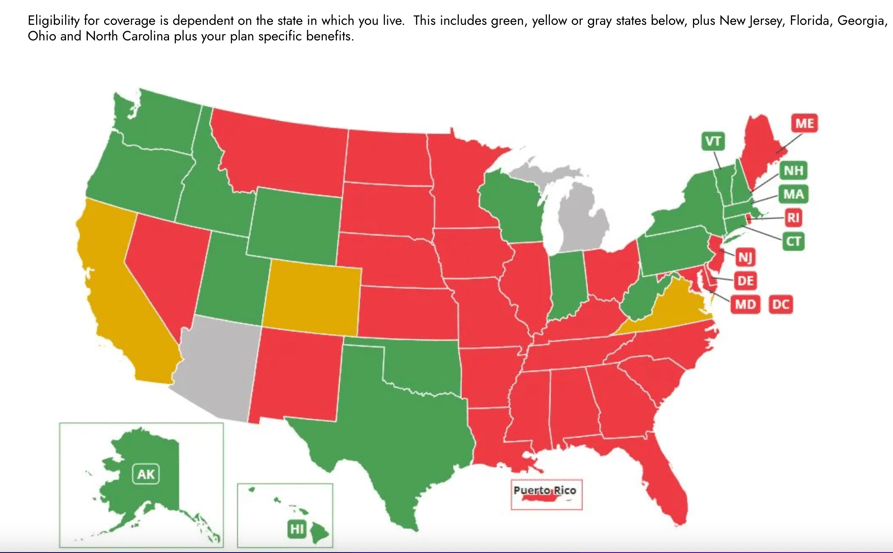 But don't worry, if you live in a red state or your insurance is not covering sessions, there are alternatives that you can seek to lessen the financial burden! More on that later!
How Your Insurance Provider Determines Coverage
Whether a dietitian is in-network or out-of-network can significantly impact the cost of services. In-network dietitians have contracted with your health insurer to provide services at a negotiated rate. Out-of-network dietitians, on the other hand, have not, meaning you may have to shoulder a larger part of the cost.
At OnPoint, we are an in-network provider with most major insurance companies, including Aetna, Cigna, Independence, Blue Cross/Blue Shield, and United Healthcare.
In-network providers have contracts with certain health insurance companies. If the dietitian you're looking to work with is an in-network provider with your insurance company, the likelihood of your health insurance company offering a portion of coverage is high.
If you have health insurance coverage with one of these companies, they may offer coverage for nutrition counseling, but let's keep digging.
Your Insurance Plan's Specific Benefits
Most insurance companies offer different plans which cover a variety of services. Whether or not nutrition counseling is one of the services that qualify for coverage depends on your plan's policies.
Many health insurance plans will cover some portion of what they consider "preventative services", and what falls under this category is dependent on which insurance plan you fall under.
Further, if your insurance covers nutrition counseling, there are a variety of contingencies or requirements that might prevent coverage of the full amount.
Some of these requirements include:
Whether or not you'll need a referral from your primary care doctor for nutrition counseling services varies from provider to provider.
Additional factors that impact this requirement is if your dietitian is in-network or not, and if the situation is determined to be necessary or an emergency.
A deductible is the amount of money you have to pay out of pocket before your health insurance provider starts covering the cost of medical expenses.
If you haven't met your out-of-pocket deductible, your health insurance provider may not offer coverage until you do.
A required per session co-pay
Co-Pays are a fixed dollar amount required by your health insurance provider, which should be clearly stated on your health insurance card.
Most co-pays are required at the time of service, or in some cases before services are provided.
A limit on the number of sessions covered in a calendar year
Some health insurance providers will offer coverage for a maximum number of nutritional counseling sessions per calendar year.
It's not uncommon for some providers to mandate annual limits which cap the number of services offered in a calendar year. Once that annual limit is reached, you are responsible to pay out-of-pocket for any remaining balance.
What is offered for the number of sessions that are covered depends on your provider and plan.
Due to specific state licensure statutes (the granting of permission to perform acts which, without it, would be illegal), our team members can submit sessions directly to insurance providers in the states they are licensed in.
Learn more: Dietitian licensure statutes by state.
Understanding Your Insurance Coverage
Understanding the specifics of your plan is essential. Read through your Explanation of Benefits (EOB) and check if your plan covers dietitian services. Coverage can vary greatly depending on your plan and insurer.
Do I have to call my provider to determine if coverage is offered?
As I mentioned at the beginning of this article, we take the guesswork and stress out of determining if you qualify for insurance coverage.
Our team here at OnPoint boasts a team of Medical Billing specialists whose main job is to contact each potential client's insurance provider by way of an "eligibility check."
To request an eligibility check now, simply fill out this form and click submit.
An eligibility check will uncover whether or not your current plan offers any amount of coverage for nutrition counseling services.
How long does an eligibility check take?
Depending on your provider and the volume of calls they receive, you can expect to get the results of your eligibility check anywhere between 3-7 days after you submit your insurance information to our team.
We are happy to run an eligibility check before you even schedule your free consultation if you'd prefer to find out first if coverage is offered before taking the next step.
The other option is to meet with our consult team and get matched with a dietitian first to get a spot on their calendar. Before your kickoff session, we will run an eligibility check and get back to you with the results before that first session.
If coverage is offered, how does that get applied to the total cost of my program?
Once your eligibility check is complete, our consult team will reach out to you via email with the results. If there is coverage offered, you will be provided with a coupon code to use during checkout. This code applies your insurance coverage to the total cost, and will show you the outstanding, out-of-pocket balance (if any).
Who do I get in touch with to get my eligibility check?
Schedule your free consultation to learn more about our company and programs before submitting insurance information
We know how important your physical AND financial health is to you. Our goal with every client is to make sure the process of crushing your health goals is a seamless and stress-free one.
Let's work together to ensure we cover all our bases so that you can make an informed and confident decision in your important health journey.
When Insurance Doesn't Cover Dietitian Services
If your insurance doesn't cover dietitian services, don't be disheartened, as there are still various options available to you that could make accessing these services more feasible.
Health Savings Accounts (HSAs) or Flexible Spending Accounts (FSAs): These types of accounts are designed to help individuals set aside money for medical expenses, including dietitian services. An HSA is typically used in conjunction with a high-deductible health plan and allows you to contribute pre-tax dollars. An FSA, on the other hand, can be used with various types of health plans. Both accounts may enable you to pay for dietitian services with pre-tax dollars, thereby possibly reducing the overall cost. It is always advisable to consult with your benefits administrator to understand what services are eligible and the rules for accessing the funds.

Payment Plans: If HSAs or FSAs are not an option, you might consider engaging directly with the provider to discuss if payment plans are available. Several of our programs do offer installment options, so don't be afraid to ask which ones we offer!
Is Nutrition Counseling Expensive in the First Place?
Investing in nutrition counseling with our specialized services is more than a fleeting decision; it's a tangible, life-changing commitment to your overall well-being and a brighter, healthier future. Here's a glimpse into why our program stands apart and why it's worth every cent:
Cost Per Session Breakdown: Our pricing structure has been thoughtfully designed to deliver real value at every stage. When you look at the length of our programs, you will notice that you are getting a world class experience, custom App and instant messaging, abundant resources starting at roughly $40 per session (depending on the program), you can embark on your nutritional journey with the guidance of our certified dietitians. Plus, when you renew your program for follow-up sessions, the pricing structure reflects the ongoing support and expertise you receive.

Instant Messaging via Custom App: Unique to our services, our custom app enables you to instant message with your dietitian at any time. Whether you have an urgent question, need clarification, or just seek moral support, this direct line to your expert ensures you're never alone on your journey. This continuous connection transforms the traditional model of nutrition counseling into an engaging, supportive experience, all included in the cost of program.

Valuable Resource and Recipe Database: Our extensive and curated database offers resources and recipes that align with your personalized plan, promoting not only condition management, nutritional balance, but also culinary excitement. From quick weeknight dinners to elaborate meals, there's something for every palate and preference, making healthy eating enjoyable rather than a chore.

Long-term Value: This is more than a service; it's a partnership in your health. By understanding your unique needs, challenges, and goals, our dietitians guide you on a path of sustainable change. The result isn't just a temporary fix but a lifelong transformation. The investment in your nutrition transcends the mere monetary cost, fostering vitality, disease prevention, and a zest for life that is truly priceless.
Our commitment is to provide you with more than mere counseling; it's about empowering you with the tools, support, and knowledge that resonate with your life and aspirations.
Every dollar spent is an investment in a future where you're in control, nourished, fulfilled, and thriving. Explore our services and allow us to become a vital part of your journey towards a healthier, more vibrant you.
Why Nutrition Counseling is an Investment in Your Future
Investing in nutrition counseling isn't just a short-term investment in your health; it's a fundamental commitment to your future self. With the guidance of a professional, you unlock the key to a life free from the crippling effects of poor dietary choices that can lead to chronic diseases, fatigue, and decreased quality of life.
This isn't about merely following a trend or losing a few pounds.
It's about embracing a path that equips you with the tools to thrive, to live more energetically, and to face the future with confidence and vigor.
By neglecting this vital aspect of health, you risk not only your physical well-being but the very essence of what enables you to enjoy life to the fullest.
Investing in nutrition counseling is a powerful step towards taking control of your destiny, and a choice that future you will undoubtedly thank you for.
Taking the Next Step to Determining Your Eligibility
Navigating the world of health insurance can be a challenging part of pursuing better health. However, with understanding and advocacy, it becomes less daunting.
Remember that seeking professional nutritional advice is an investment in your long-term health.
As a trusted team that has served more than 20,000 people, Our team of Registered Dietitians and Nutritionists at OnPoint Nutrition are committed to helping you navigate these complexities, providing expert guidance every step of the way.
With our assistance, you can focus less on navigating insurance jargon and more on achieving your health and wellness goals.
So what are you waiting for? Let's get started on your path to better health!
To request an eligibility check now, simply fill out this form and click submit.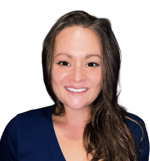 Abby Aikens is a Content Manager who works with OnPoint Nutrition to spread the word about better health. With an arsenal of Dietitians and Nutritionists at her finger tips, Abby aids the mission of improving access to valuable information about how nutrition can change lives. Abby knows well the power of good nutrition and believes in the mission of OnPoint to educate and bring better health to their clients.