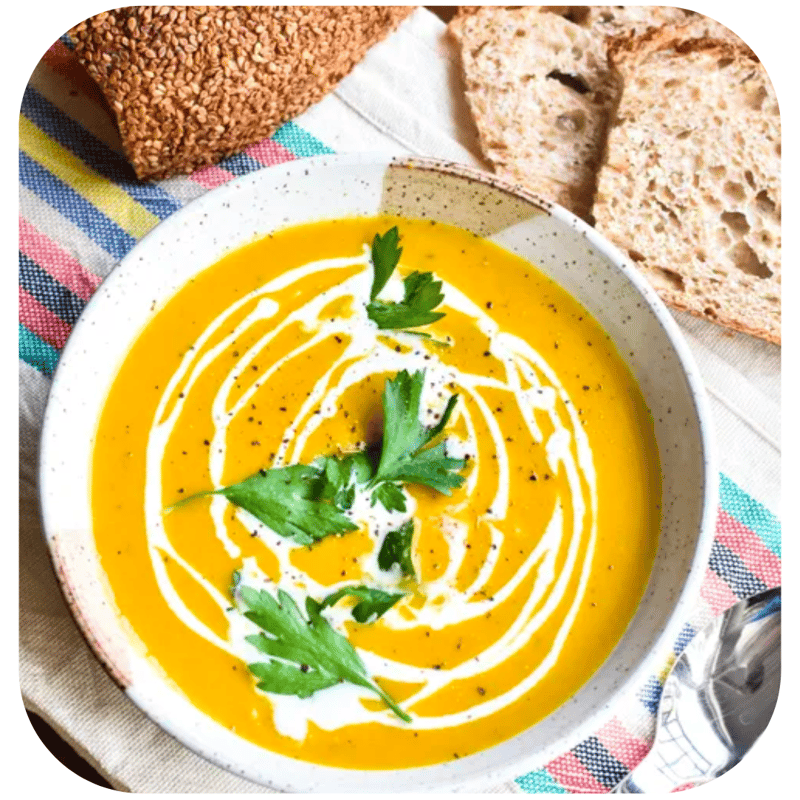 If you're looking for a new comfort food that won't expand your waistline, look no further than butternut squash. Autumn is peak harvest for this nourishing, delectable fruit. As we near winter, we naturally tend to crave heavier foods, making butternut squash the perfect solution to your cold weather hankerings.
Although butternut squash is technically a fruit, it's more commonly known and used as a vegetable! It's categorized as a Winter Squash, and belongs to the same family as pumpkins. Compared to many vegetables, butternut squash has a rather long shelf-life, lasting between 1-2 months when stored properly. The flavor becomes increasingly rich and sweet as it ripens. Butternut squash is consumed around the world and has a variety of health benefits.
It's Packed with Health Benefits!
Butternut squash is extremely nutritious, due its high content of anti-oxidants, fiber, vitamins, and minerals. It is a great source of complex carbohydrates, and is low in calories and fat (1 cup contains ~ 63 calories and less than 1g of fat).
I'm sure that all sounds great, but let's get specific: what does that all mean for our health?
Antioxidants:
Most vibrantly colored fruits and vegetables contain a high antioxidant content. There's much to be said for antioxidants: They protect against free radicals (destructive forces formed in response to the consumption of fried foods and alcohol; and other substances like tobacco, pesticides, and air pollutants). Antioxidants have also been shown to protect against heart disease, cancer, Alzheimer's, Type 2 Diabetes, and many other deadly ailments. For more information on antioxidants, check out our post
here
.
Fiber
: Butternut squash is an excellent source of fiber, which can help lower cholesterol, control blood sugar, and improve digestion. If that wasn't enough, fiber can also help to maintain a healthy weight by making you feel full for longer than other foods.
Vitamins A &C
: Due to its high content of Vitamin A, butternut squash may help to preserve and improve eye and skin health. It also possesses large quantities of Vitamin C, which adds to its antioxidant qualities and may help to boost the immune system.
Minerals
: Potassium, Iron, Calcium & Magnesium. Butternut squash is loaded with vital minerals that aid our health in many ways. For instance, the potassium in butternut squash is important for maintaining healthy blood pressure, balancing electrolytes, and preserving kidney health. This fruit is also a good source of iron; important for energy production, circulation and oxygenation in our bodies, and in the prevention of anemia. It also contains calcium and magnesium, which work in tandem with potassium to maintain bone mineral density and prevent osteoporosis
.
Let's Eat! Butternut Squash Recipes:
Due to its unique flavor, butternut squash can be used in both savory and sweet dishes. It can be cooked in a variety of ways, including: roasting, sautéing, toasting, steaming, and microwaving. Preparation techniques are equally as variable and involve cubing, pureeing, and mashing. It can be used in a wide assortment of dishes such as casseroles, breads, muffins, soups, salads, etc. Even the seeds are edible, and can be roasted or toasted for a tasty and healthy snack.
After this deluge of information on the countless benefits of butternut squash, you're probably dying to try it out! Check out this recipe, or reference our OnPoint
Recipe Database
for more!
Butternut Squash Mac and Cheese
Ingredients:
½ butternut squash, chopped

1 tablespoon olive oil

½ lb. whole wheat macaroni

2 ½ cup milk, divided

2 tablespoons butter

3 tablespoons flour

1/8 teaspoon nutmeg

1 teaspoon rosemary

2 cups shredded cheddar cheese

¾ cup whole wheat breadcrumbs
Instructions:
Preheat oven to 400 degrees.

Place squash on baking sheet, drizzle with olive oil, and bake for 20-30 minutes.

Cook macaroni.

Add squash and ½ cup of milk to food processor and puree until smooth.

Melt butter on stove top over medium heat. When melted whisk in flour, add nutmeg and cook 2-3 minutes stirring continuously. Add ½ cup milk and whisk until smooth. Turn to high heat and bring mixture to a boil. When mixture thickens, turn to low heat and whisk in squash mixture and rosemary.

Add ½ squash and noodle mix to casserole dish with ½ of cheese. Add rest of mixture with rest of cheese and sprinkle with breadcrumbs.

Bake for 25-30 minutes.
Adding more vegetables to your diet is a way to keep up with long term goals in a healthy, sustainable way! To learn more, download our No-Diet Nutrition Guide
Holly DeLong is a Registered Dietitian Nutritionist with a Master's degree in Nutrition and a background in Psychology and Research. She is the co-founder of Food and Mood, a practice that allows people to work towards better mental and physical health together.