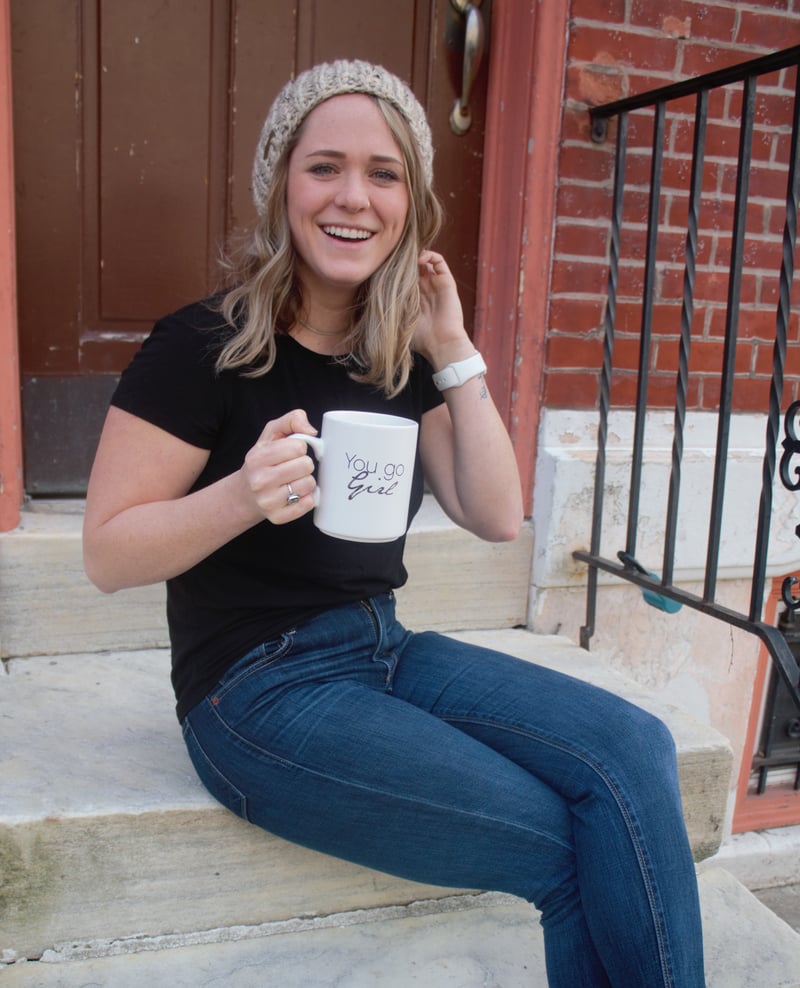 From the beloved PSL (Pumpkin Spice Latte, duh!) to the baristas cutely mis-spelling your name, Starbucks has certainly made it's mark as a cultural icon. Since most of us don't walk out of Starbucks with a plain old coffee, let's dive in the nitty gritty of Starbucks nutrition. You might be surprised at what's hiding in your seemingly innocent order!
How Do You Like Your Coffee?
If you've been to Starbucks, chances are you've ordered a Frappucino at some point. Topped with whipped cream and seasonal sprinkles, this drink is pretty easy on the taste buds. Before you dash to the nearest Starbucks to place your order, take a look at the chart below*. Without making modifications, your favorite Frappe resembles an ice cream sundae more so than a refreshing beverage!

*Additional nutritional information and sourcing can be found here
Some Like it Hot
In case Frappucinos don't do it for you, let's look at a fan favorite. Starbuck's Pumpkin Spice Latte is a rich, flavor-pounding thrill ride! Just like menu-standard Frappucinos, lattes pack a heavy sugar punch if you don't make some key modifications. This doesn't mean you need to kiss the PSL goodbye. Simply follow the ordering instructions below to enjoy all the pumpkin goodness, without the sugar coma*.

*Additional nutritional information and sourcing can be found here
Pro Tip: By ordering your favorite drink via the Starbucks app, you can make endless modifications to any drink order. Try reducing the number of syrup and flavoring pumps, add calorie-free flavorings like cinnamon, or try swapping 2% milk for almond milk. You might just find your new favorite concoction, all while earning free drinks along the way!
Hunger Pains
As you probably know, Starbucks offers so much more than just beverages. It's no mistake that the bakery display is right in front of your eyes as you work your way to the front of the line. Before you decide to "treat yo'self" for patiently awaiting your turn to order, take a step back. That healthy-sounding banana nut bread (it's fruit and healthy fats, right?) is one of the most deceiving items staring at you from behind the glass. At 420 calories and 30g of sugar per slice, that little piece of heaven isn't much better than stopping at McDonald's for a Big Mac-seriously. Take a look at the chart below to see how the famous burger stacks up against some of Starbucks' worst offenders* **!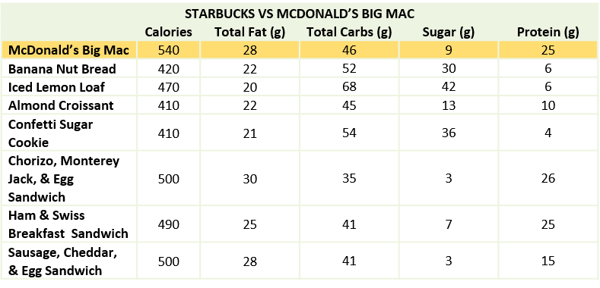 *Additional nutritional information and sourcing for McDonald's can be found here
**Additional nutritional information and sourcing for Starbucks can be found here
Nutritionist Approved
By now you're probably feeling at a loss for what to order at Starbucks. Don't worry, this story has a happy ending! Whether you're in the mood for a beverage, dessert, or even breakfast; Starbucks has some clear winners. Check out the chart below and allow the warm, fuzzy pumpkin spice happiness to wash over you once again*.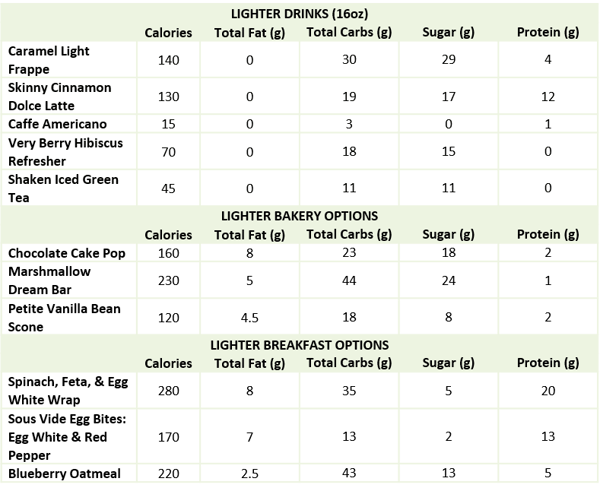 *Additional nutritional information and sourcing can be found here
The Bottom Line
Now that you're a Starbucks aficionado, use the tips and tools above to order your favorite menu items with confidence. As with most food establishments, there are certainly menu items to avoid, some to modify, and some that are naturally lighter. Plan ahead, stick to your guns, and most of all-enjoy!
Want to read more about your favorite restaurants? Read about Chipotle, Panera, Starbucks, and more, here!
Topics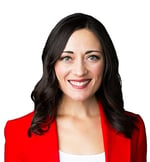 Britney Kennedy is the founder and CEO of OnPoint Nutrition. Since opening in 2016, she and her team have helped over 2,500 individuals become happier, healthier more confident versions of themselves.