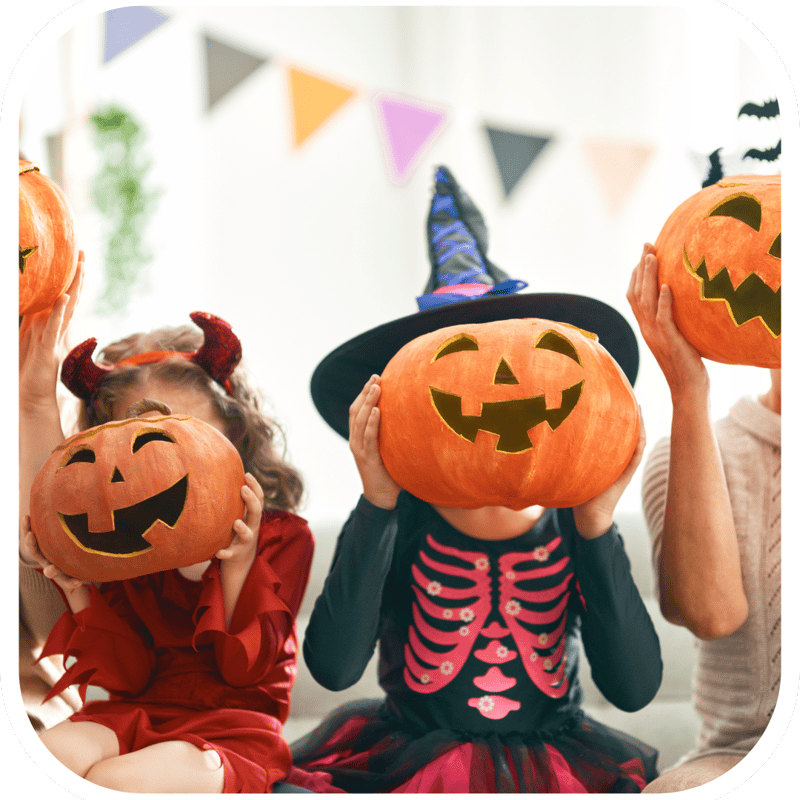 Fall has officially arrived again! What a beautiful and abundant time of year. This season yields a variety of crops. If you're just as basic as we are, you totally love everything pumpkin! And who wouldn't? But…. have you ever thought of enjoying and savoring in the health benefits of pumpkin? Edible pumpkins are a type of winter squash that are packed full of amazing nutrients that do the body good!
Like all other orange-colored vegetables, pumpkins are rich in beta-carotene, the plant source of Vitamin A. Vitamin A is an antioxidant. Antioxidants help the body ward off various diseases by absorbing free radicals. Free radicals can easily do harm to the body when in excess. Eating an antioxidant rich diet is a great way to help protect the body against diseases and cancers.
In addition, pumpkins may help to reduce blood pressure, as they are rich in potassium. Potassium is a vital nutrient in maintaining blood pressure levels. When cooking with canned pumpkin, be mindful of the sodium content. Too much sodium across all items in the diet can have a negative effect on blood pressure levels. Aim to choose canned items with the lowest sodium content.
Pumpkins are an efficient source of fiber. Fiber is most famous for reducing constipation and keeping things 'moving' throughout the bowels. In addition, eating a high-fiber diet aids in satiety to help create a feeling of fullness, keeping you feeling fuller longer. This can prevent overeating, and potentially excessive weight gain! One cup of pumpkin puree contains close to seven grams of fiber!
Lastly, don't trash the pumpkin seeds! Pumpkin seeds are packed with protein. One ounce contains nearly the same amount of protein as 1 cup of soy or cow's milk. Seeds can be enjoyed alone, in trail mixes, or as a topping on just about anything.
To reap all the benefits of pumpkin this season, try our recipes below!
Pumpkin Overnight Oats
| | | | |
| --- | --- | --- | --- |
| Prep Time | Cook Time | Serving Size | OPN Conversion |
| 10 minutes | let sit overnight | makes 2 serving | 1 starch + 1/2 dairy |
Ingredients:
1/3 cup plain Greek yogurt
1/2 cup raw rolled oats
2/3 cup milk of choice
½ tsp vanilla
½ mashed banana
½ cup pumpkin puree
½ tsp cinnamon
¼ tsp nutmeg
Instructions:
Mix all ingredients together
Add mixture to a jar with lid.
Refrigerate overnight.
Wake up, and enjoy
Pumpkin Hummus
| | | | |
| --- | --- | --- | --- |
| Prep Time | Cook Time | Serving Size | OPN Conversion |
| 15 minutes | 0 minutes | 1 Tbsp | 1 condiment |
Ingredients:
1 can of chickpeas/garbanzo beans, approx. 2 cups/16oz
1 cup pureed pumpkin
1 Tbsp tahini
Shake of kosher salt
½ tsp chili powder
½ tsp cumin
1/4 cup extra virgin olive oil
1 clove of garlic
Instructions:
Rinse beans thoroughly
Place all ingredients in food processor
Blend until smooth
Measure and enjoy!
Pumpkin Chili
| | | | |
| --- | --- | --- | --- |
| Prep Time | Cook Time | Serving Size | OPN Conversion |
| 30 minutes | 6-8 hours | 1 1/2 cups | 1/2 protein + 2 starch + 1 fat |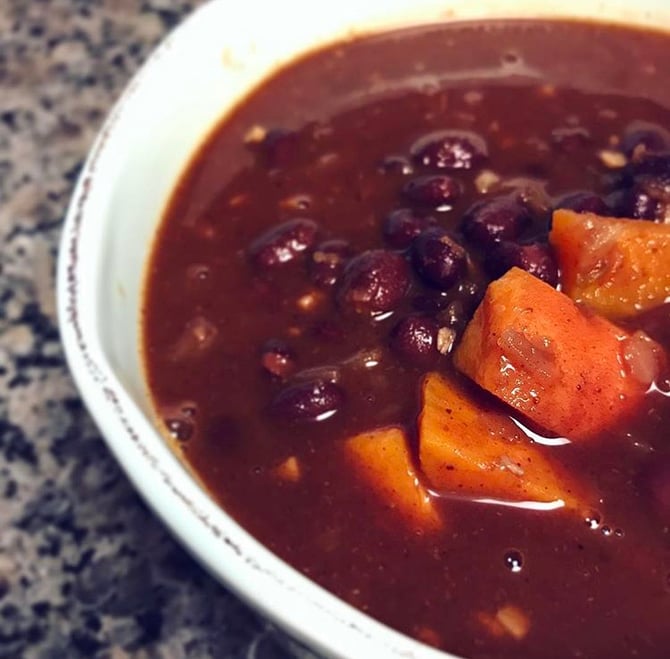 Ingredients:
1 can pumpkin, approx. 2 cups/16oz
2 cups water
1 can + 1 cup raw beans of any kind (black, kidney, cannellini, an/or lentils)
1 large can crushed tomatoes, 16oz - no salt)
1 lb lean ground turkey or chicken. (approximately 2 breasts if cubed meat is desired)
4-6 cups of low sodium broth of choice
Spices: chili powder, black pepper, garlic powder, onion powder, red pepper flakes, cayenne, and cumin. Use 1-2 teaspoons of each desired spice.
Optional: include onions, peppers, and carrots to add bulk and check off a few veggie servings-yum!
Instructions:
Saute meat in a large skillet over medium heat with olive oil
If using veggies, add to the meat after 3-4 minutes of cooking
Add spices to meat, remove from heat
Add pumpkin, tomatoes, beans, broth, water, and spices to slow cooker and stir
Once meat begins to brown, added to slow cooker
Place on low setting for 6-8 hours
Measure into serving bowl, add your favorite toppings, and enjoy!
Pumpkin Chocolate Chip Muffins
| | | | |
| --- | --- | --- | --- |
| Prep Time | Cook Time | Serving Size | OPN Conversion |
| 10 minutes | 20 minutes | 1 muffin | 1 starch + 2 fat |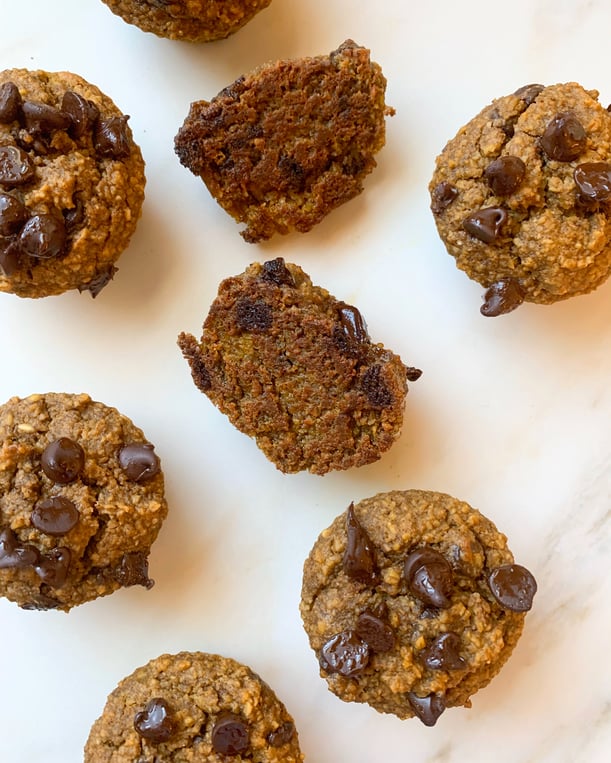 Ingredients:
3 cups old-fashioned oats

1 tbsp pumpkin pie spice

1/2 tsp sea salt

dash of cinnamon

1 1/2 tsp baking soda

2 eggs

1/2 cup maple syrup

1 cup almond or oat milk

1 cup pumpkin puree

2 tsp vanilla extract

2 tbsp melted coconut oil

3/4 - 1 cup dark chocolate chips
Instructions:
Preheat oven to 375°F.

Line a 12 cup muffin pan with parchment paper or liners.

In a blender or food processor, blend oats until they become a flour-like consistency. Add other dry ingredients and blend to combine.

In a large bowl, whisk together wet ingredients. Fold dry ingredients into wet, mixing to combine then fold in chocolate chips.

Portion into baking cups and bake for 20 minutes or until toothpick comes out clean.
Interested in adding even more pumpkin to your life? Click here for more delicious pumpkin recipes!
Topics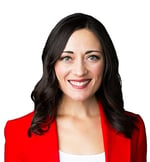 Britney Kennedy is the founder and CEO of OnPoint Nutrition. Since opening in 2016, she and her team have helped over 2,500 individuals become happier, healthier more confident versions of themselves.
Related Posts