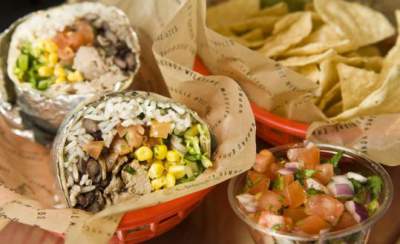 When Chipotle entered the fast-food scene, they raised the bar by offering local produce, anti-biotic free proteins, and even organic ingredients. Given that McDonald's had been recently exposed for their non-decomposing cheeseburgers (who could forget THAT?), Chipotle's emergence as a top food chain sure seemed like a sign of growth within the food industry. While this is all fine and dandy, you might still find yourself wondering, "yeah, but is Chipotle healthy?" To answer that question, let's take a closer look at some popular Chipotle menu items, and assess their nutrition!
Brownie Points
Before we get into all the details, let's add some fun to this nutritional assessment.
Each menu item will be given a score based on how healthy it is compared to other menu items.
A score of one avocado:

is a menu item to steer clear of, while a score of 5 avocados :





puts that menu item at the front of the class! Let's begin…
Burrito Basics
What better place to start than with a Chipotle staple? Behold, the burrito with all its soft, flavorful, melt-in-your-mouth goodness.
A standard order contains the following: flour tortilla, chicken, white rice, black beans, fresh tomato salsa, sour cream, cheese, and romaine lettuce (as long as there's not a recall). If you're thinking this seems like a pretty average lunch, think again.
We compared the above standard order with a few simple swaps. Since rice and beans are both sources of starch; choose one and throw in some extra veggies for an added crunch.
When it comes to fat-laden cheese, sour cream, or guac; again, choose one. As you can see in the chart below, these simple modifications save a lot of calories, fat, and carbohydrates! This is Chipotle Nutrition improvement at its finest!
Basic Burrito Score:

Modified Burrito Score:



Make it a Bowl
The easiest way to lighten your Chipotle order is to skip the tortilla altogether. Burrito bowls are the perfect way to cut down on calories and fat without sacrificing flavor.
Below, we complied a standard burrito bowl, using the tips above from the burrito! Just like above, we chose fiber-rich brown rice as our starch option, loaded the bowl up with veggies, and topped it off with melty cheese (are you drooling yet?)
As you can see, this is a pretty solid order from Chipotle to satisfy your taste buds and stay on track with those Chipotle nutrition #goals.
Basic Burrito Bowl Score:




Salad for the Win
Diehard Chipotle fans will know the magic of the salad. Far from boring, Chipotle's nutritious salad is basically a re-vamped burrito bowl.
The main difference between the salad and the bowl is changing out the base of rice and/or beans for romaine lettuce-meaning more veggies and less carbs!
Using the same basic order as the burrito bowl, but swapping brown rice for black beans, you can see how we have created a balanced, healthy meal from Chipotle!

Basic Salad Score:





How Does Your Order Compare?
As you move your way down the counter at Chipotle, you have a plethora of options with which to craft your meal.
For this reason, we've provided nutritional information on the various bases, toppings, and sides available for you to order!
One of the best parts of ordering from Chipotle is the ability to create a variety of different combinations to suit your mood.
Pro Tip
Raise your hand if you love Chipotle's chips (ME!)
Well, if you look at the chart above, you'll see that the standard order of chips is just about as heavy as an entire burrito bowl! One of the best ways to enjoy those perfectly salty gems is to order a kid's bag of chips.
With only about a quarter of the calories of the standard sized bag, you can truly have your cake and eat it, too!
The Bottom Line
Now that you've learned the ins and outs of Chipotle nutrition, you should feel pretty good about placing your next order.
With endless combinations, quality ingredients, and tons of flavor; eating at Chipotle might just be the best way to add some spice to an ordinary day!
Overall Chipotle Score:





Want to read more about your favorite restaurants? Read about Chipotle, Panera, Starbucks, and more, here!
All nutrition information and sources can be found here
Topics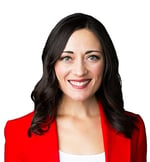 Britney Kennedy is the founder and CEO of OnPoint Nutrition. Since opening in 2016, she and her team have helped over 2,500 individuals become happier, healthier more confident versions of themselves.