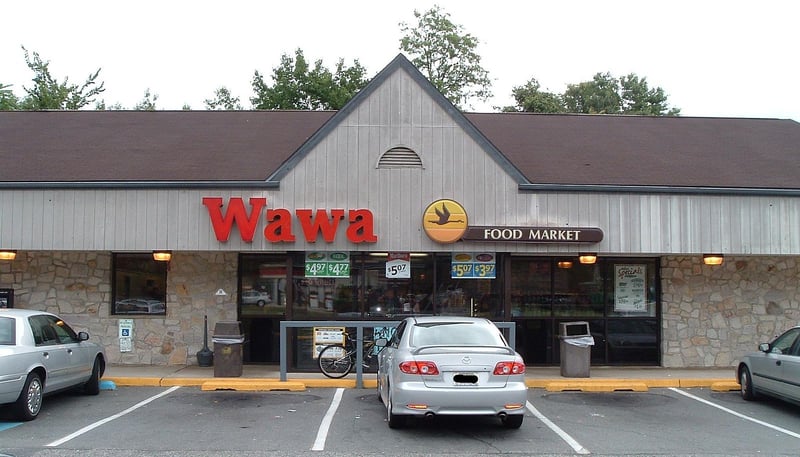 Wawa Nutrition vs Sheetz Nutrition! A rivalry as bitter as Eagles-Cowboys or Katy Perry-Taylor Swift. For those outside of the Northeast United States, these companies are fully-loaded convenience stores, offering deli counters with made-to-order sandwiches and other items. The stores are especially popular because most Wawas and all Sheetzs offer gasoline terminals and free ATMs. In this article, we dissect the rivalry from the perspective of Sheetz vs Wawa nutrition quality.
Company Backgrounds
Wawa is a family owned company that dates back to 1803, beginning operations as an iron foundry in southern New Jersey. Over many business cycles, the company moved into the farming business outside Philadelphia, opening a dairy farm in Wawa, Pennsylvania. As home milk delivery declined in the early 1960s, CEO Grahame Wood decided to open up the first "Wawa food market" in 1964 to sell and distribute the company's dairy products. The company has grown to more than 645 locations in Pennsylvania, New Jersey, Delaware, Maryland, Virginia and Florida. Above all else, the company is known for its Italian roll sandwiches, known affectionately in Philly as "hoagies". Every summer, the company promotes these sandwiches during a 3-month-long "Hoagiefest".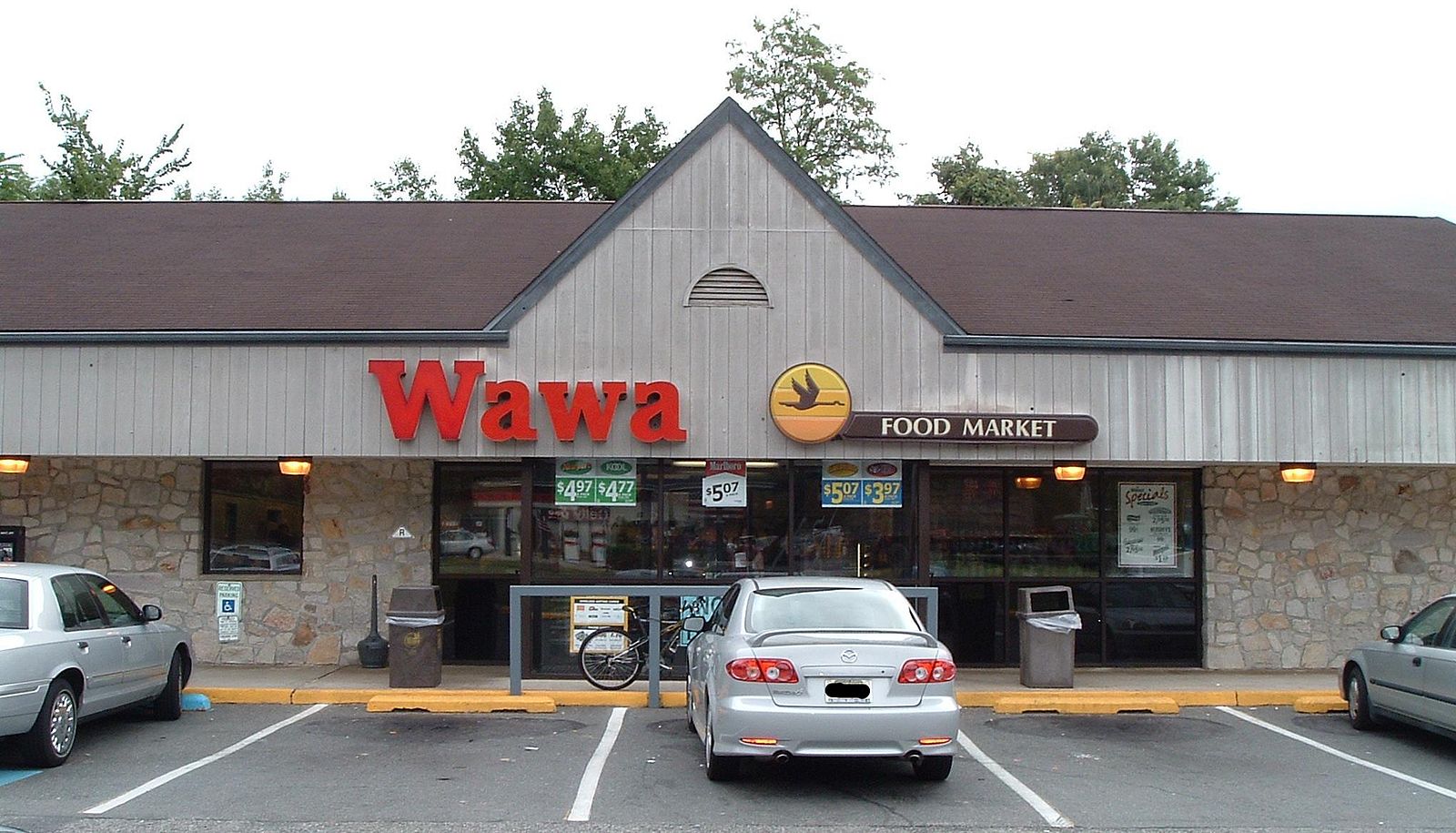 Similar to Wawa, Sheetz began in Altoona, Pennsylvania in 1952 when Bob Sheetz purchased one of his father's five dairy stores and converted it into a "Kwik Shopper". The company expanded at a moderate rate through western Pennsylvania, and remains owned and operated by the Sheetz family. Through organic growth, the company has expanded its operations to more than 435 locations throughout Pennsylvania, Maryland, Virginia, West Virginia, Ohio and North Carolina. Its stores feature bright red gasoline awnings that appear ready for flight, and most of its food items share the same spelling motif: Subz, Saladz, Wrapz, Fryz and Burgerz.
Breaking Down Popular Items
The Wawa Nutrition vs Sheetz Nutrition rivalry peaks where the store presences overlap, and has been covered by the New York Times and the Philadelphia Inquirer. Each chain has a loyal following and elicits strong opinions from a wide audience, ranging from college kids to business consultants. Without further ado, let's dig into the Sheetz vs Wawa nutrition showdown.
We compare each store's full size sandwiches, 6" sandwiches, and comparable non-sandwich items.
Full-Size Sandwiches
Wawa offers one 10" sandwich per order, while Sheetz makes two 6" halves for a full order. We compare each store's turkey sandwich, paired with a bag of Lays potato chips, below: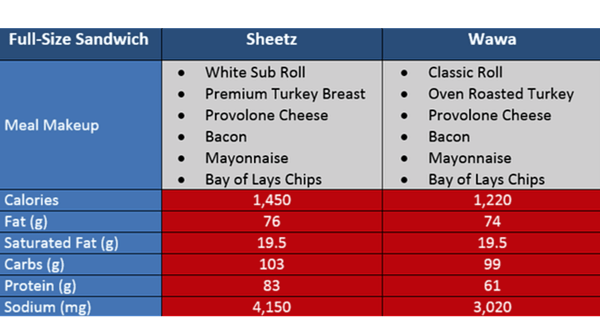 Winner: DRAW
(We would give both sides a 'fail' if we could)
As you surely noticed above, both full size sandwiches are incredibly high in all categories, and account for more than half the recommended daily value for all of the measures above. The worst aspect of both the Sheetz Sub and the Wawa Hoagie is sodium. For reference, the USDA recommended daily value is under 2,300 mg. By eating these sandwiches on a regular basis, it will be very difficult to maintain a healthy weight. In terms of sandwiches, Sheetz Nutrition and Wawa Nutrition are both poor.
Six-Inch Sandwiches
The 6" sandwiches are by far a better option for lunch or dinner. We recommend pairing each 6" sandwich with a side of fresh fruit or vegetables.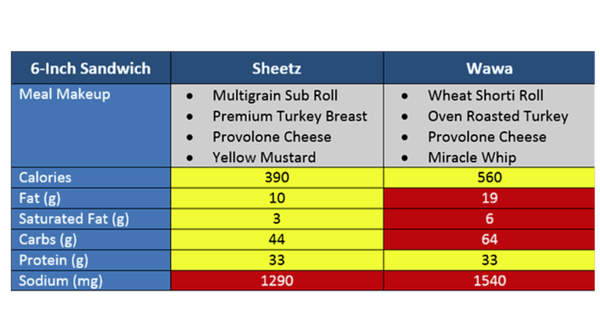 Winner: SHEETZ
Sheetz six-inch sandwich performs relatively well against any other quick-serve lunch choice. From this perspective, Sheetz nutrition is great! The meal is balanced from a macro-nutrient perspective, and low in saturated fat. While the sodium levels are elevated, this sandwich beats the Wawa six-inch hoagie in every measurable category. Step it up, Wawa nutrition...
Salads
Both companies also offer "grab-and-go" salads for people making a quick stop into the store. While the garden salads at both restaurants are comparable, we want to highlight the Caesar salad options at the two restaurants:

Winner: WAWA
This matchup is a complete knockout. In terms of nutrition, Sheetz Caesar contains a lot of creamy dressing and parmesan cheese, which revs up the calories, fat and carbohydrate levels of the salad. Instead of the Sheetz Spicy Caesar Salad, the best way to create a healthy salad option is to create your own on the made-to-order touchpad. Opting for lite or fat-free salad dressing instead of creamy salad dressing varieties will help keep your calories and fat levels appropriate for one meal. We share a solid Wawa nutrition salad order below, shown in Wawa's nutrition calculator: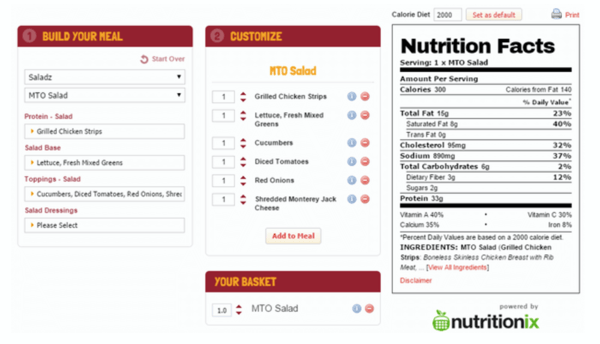 The Decision
In a 1-1-1 scorecard, Sheetz Nutrition and Wawa Nutrition split the decision. The full tally looks like this:
Full sandwich: Neither

6" Sandwich: Sheetz Subz

Salad: Wawa Salads
It is difficult to build a nutritious meal at either restaurant when ordering the full size sandwich. The roll itself contains more than 300 calories, and the cheese and dressing options contribute additional calories, saturated fat, and sodium to your day. The Sheetz turkey sub has nearly twice the recommended daily value of sodium! However, if you are craving a full size hoagie, Wawa is the marginally better pick. Either way, it is in your best interest to forgo a side dish and carbonated beverage.
A better option is the 6" sandwich. In this comparison, Sheetz nutrition offers the better meal. The sandwich is under 400 calories, and while moderately high in fat, sodium and carbohydrates, it can be balanced by a lean-meat and vegetable heavy breakfast and/or dinner to keep your day on track.
When it comes to salads, Wawa nutrition is the winner by a landslide. Its Caesar salad is a decent grab-and-go option. Conversely, none of the pre-made Sheetz salads are a good pick. Your best bet is to custom-build a salad. The salad our nutritionists built is a solid choice.
Both Wawa nutrition and Sheetz nutrition offer convenience and tasty food to customers and have built loyal followings throughout the Mid-Atlantic region. Keep these tips in mind the next time you walk in the door for your next hoagie, salad(z) or sub(z).
Each store has a nutrition calculator, which you can find here: Wawa | Sheetz
Want to read more about your favorite restaurants? Read about Chipotle, Panera, Starbucks, and more, here!
Topics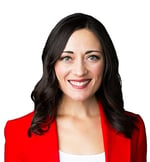 Britney Kennedy is the founder and CEO of OnPoint Nutrition. Since opening in 2016, she and her team have helped over 2,500 individuals become happier, healthier more confident versions of themselves.